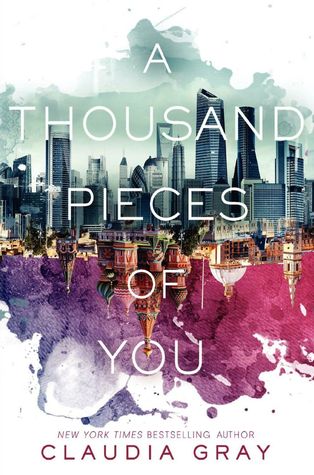 Release date:
November 4, 2014
Author info:
Website
|
Twitter
|
Facebook
Publisher:
HarperTeen
Pages:
357
Format:
Egalley
Source:
Publisher provided for review through Edelweiss
Buy the book:
Barnes & Noble
|
Amazon
|
The Book Depository
Cloud Atlas meets Orphan Black in this epic dimension-bending trilogy by New York Times bestselling author Claudia Gray about a girl who must chase her father's killer through multiple dimensions.

Marguerite Caine's physicist parents are known for their groundbreaking achievements. Their most astonishing invention, called the Firebird, allows users to jump into multiple universes—and promises to revolutionize science forever. But then Marguerite's father is murdered, and the killer—her parent's handsome, enigmatic assistant Paul— escapes into another dimension before the law can touch him.

Marguerite refuses to let the man who destroyed her family go free. So she races after Paul through different universes, always leaping into another version of herself. But she also meets alternate versions of the people she knows—including Paul, whose life entangles with hers in increasingly familiar ways. Before long she begins to question Paul's guilt—as well as her own heart. And soon she discovers the truth behind her father's death is far more sinister than she expected.

A Thousand Pieces of You explores an amazingly intricate multi-universe where fate is unavoidable, the truth elusive, and love the greatest mystery of all.
I've noticed a theme in books that I
knew
I wanted to read and got myself a copy of pre-publication or publication week, and then didn't read. For a long time. And that trend is that I end up loving them.
A Thousand Pieces of You
is just another example! I've been a fan of Claudia Gray for a long time, but I'd say this is my favorite of her books. Sure, that beautiful cover calls your name, but the extraordinary ideas she has and the fascinating journey Marguerite takes are what'll make you come back for the sequel
Though I knew I wanted to read this, and expected to like it,
A Thousand Pieces of You
was very different from what I thought it would be--in the best way possible. I loved the alternate worlds, and seeing the iterations of different characters throughout. I loved how there were differences amongst them, but the threads of who they were never changed, despite the extreme disparity in their circumstances.
Can I give Paul his own paragraph? Fun story: I actually bought this book as a gift for my best friend for Christmas, knowing it was exactly her kind of thing. Not too long after, she, of course, texted me her feelings--and most of them revolved around Paul. And distress. No spoilers, but he's wonderful and don't let anyone tell you differently. Back to real reviewing...
If I have qualms, there's a certain (oft-discussed, if you've read any reviews) thing that's a little less than palatable, and I wish the book had started with a little more preamble, but, honestly, I've got too much love for this to worry too much. Gimme more, gimme more, please! (In the meantime, I'll just drool at the covers. Because, seriously? Jaw dropping.)
About the author:
Claudia Gray is the pseudonym of Amy Vincent, a bestselling, New Orleans-based novelist. She is perhaps best known for her four-book Evernight series, which follows a girl named Bianca, who is sent to Evernight Academy, a boarding school for vampires.

Gray has also published Balthazar, a spin-off of the Evernight series about Bianca's vampire friend, and a stand-alone novel entitled Fateful, the tale of a young serving woman aboard the doomed ship Titanic, and a dark stranger who is pursued by werewolves. Gray's short stories have been featured in anthologies such as Immortal, Enthralled, and Vacations from Hell. Before working as a full-time novelist, Gray worked as a lawyer, a disc jockey, a journalist, and a waitress (a terrible one by her reckoning). She enjoys hiking, traveling, reading, and listening to music, but says she loves writing best of all.