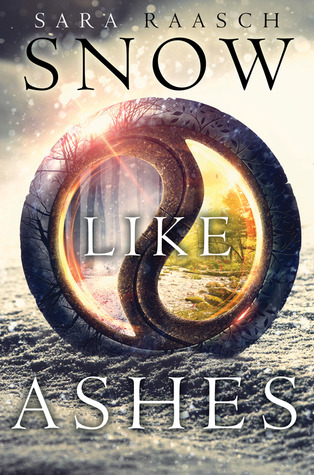 Release date:
October 14, 2014
Author info:
Tumblr
|
Twitter
Publisher:
Balzer + Bray
Pages:
416
Format:
Egalley
Source:
Publisher provided for review through Edelweiss
Buy the book:
Barnes & Noble
|
Amazon
|
The Book Depository
A heartbroken girl. A fierce warrior. A hero in the making.

Sixteen years ago the Kingdom of Winter was conquered and its citizens enslaved, leaving them without magic or a monarch. Now, the Winterians' only hope for freedom is the eight survivors who managed to escape, and who have been waiting for the opportunity to steal back Winter's magic and rebuild the kingdom ever since.

Orphaned as an infant during Winter's defeat, Meira has lived her whole life as a refugee, raised by the Winterians' general, Sir. Training to be a warrior—and desperately in love with her best friend, and future king, Mather — she would do anything to help her kingdom rise to power again.

So when scouts discover the location of the ancient locket that can restore Winter's magic, Meira decides to go after it herself. Finally, she's scaling towers, fighting enemy soldiers, and serving her kingdom just as she's always dreamed she would. But the mission doesn't go as planned, and Meira soon finds herself thrust into a world of evil magic and dangerous politics – and ultimately comes to realize that her destiny is not, never has been, her own.
Though people's reports of how predictable
Snow Like Ashes
is put me off from reading it for a long time (I mean, it came out a year and a half ago--and I had it before publication!), one day, I got in the mood for it and read it nonetheless. And I liked it!
Honestly, there are plenty of things I could pick at in
Snow Like Ashes
. I thought some of the worldbuilding was a little lazy and obvious, and like I said, it was predictable--over and over again. Yet, I found myself pretty much glued to the page, flying through the book faster than I could have guessed. And there's nothing wrong with something being predictable and entertaining--you know?
In a lot of ways, I think
Snow Like Ashes
is fantasy-lite? As a huge fantasy reader, it's easy to see what Sara Raasch is trying to do, but it just never adds up to the epic fantasy I think it wants to be.
But I really liked Meira! I could feel her determination to be someone valued, to be someone relied upon--a true part of her country. At first, she seemed whiny, but it became really obvious she had reason to be upset, and I so liked that she kept pushing, kept making people listen to her. She was at times
too
headstrong and rushed off without considering consequences, but I could still get behind her most of the time.
So, if you're like me and want to read
Snow Like Ashes
but were iffy, I'd actually recommend it! I went in with lowered expectations, somehow ploughing ahead even though I expected not to like it, and I
so
enjoyed my reading experience, despite any problems I had.
About the author:
Sara Raasch has known she was destined for bookish things since the age of five, when her friends had a lemonade stand and she tagged along to sell her hand-drawn picture books too. Not much has changed since then — her friends still cock concerned eyebrows when she attempts to draw things and her enthusiasm for the written word still drives her to extreme measures. Her debut YA fantasy, SNOW LIKE ASHES, the first in a trilogy, came out October 14, 2014 from Balzer + Bray. It does not feature her hand-drawn pictures.