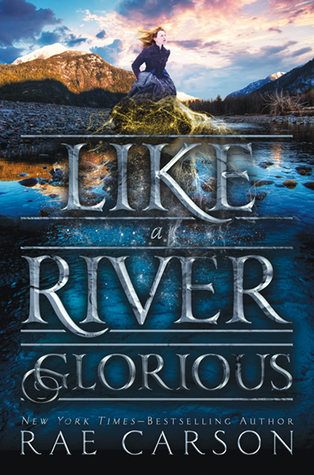 Release date:
September 27, 2016
Author info:
Website
|
Twitter
|
Facebook
Publisher:
Greenwillow Books
Pages:
416
Format:
Egalley
Source:
Publisher provided for review through Edelweiss
Buy the book:
Barnes & Noble
|
Amazon
|
The Book Depository
After a harrowing journey across the country, Leah Westfall and her friends have finally arrived in California and are ready to make their fortunes in the Gold Rush. Lee has a special advantage over the other new arrivals in California—she has the ability to sense gold, a secret known only by her handsome best friend Jefferson and her murdering uncle Hiram.

Lee and her friends have the chance to be the most prosperous settlers in California, but Hiram hasn't given up trying to control Lee and her power. Sabotage and kidnapping are the least of what he'll do to make sure Lee is his own. His mine is the deepest and darkest in the territory, and there Lee learns the full extent of her magical gift, the worst of her uncle, and the true strength of her friendships. To save everyone, she vows to destroy her uncle and the empire he is building—even at the cost of her own freedom.

The second epic historical fantasy in the Gold Seer trilogy by Rae Carson, the acclaimed author of The Girl of Fire and Thorns.
Sometimes I wonder if it's worth anyone's time for me to review Rae Carson's books any more. Why? Because, without fail, I give them 5 stars and rave, rave, rave. But, I like to rave and this is my space, so I think I'll rave about her a little bit more. Obviously, I loved
Like a River Glorious
.
Where
Walk on Earth a Stranger
is a road story, seeing Lee and Jefferson head across the country to find their futures and a home,
Like a River Glorious
follows our friends as they begin to set up that home and fight for it. And where Leah's uncle Hiram is largely a hovering, outside threat in WOEaS, he's up close and personal in LaRG. His motivations are hard to understand in the first book, but we see so much more of him here and begin to understand why he's pursuing Lee so hard.
What I especially appreciated was how the plights of the Native Americans and immigrants (but especially Chinese) were enumerated very heavily. A lot of that was glossed over a bit in the first book, but Rae rather unflinchingly (and seemingly accurately--I'd love to know how accurate if anyone knows?) shows the hardships these people had to survive. Jefferson is very sensitive, being half Native American, but I like that Lee needs a little bit of waking up to understand, because I think a lot of us are like that.
And ohh, the romance! The first book was so light in romance, but knowing how Rae can write a romance, I had faith it would come and my wait would be worth it. And it was. Leah and Jefferson are just too perfect. Even though the romance
is
a lot heavier in this book, it's still not the central focus. Lee and Jeff have a lot to do, even without making goo goo eyes at one another. (Though I'd still enjoy that book!)
Did I tell you I'd rave? I don't know where the final book in the Gold Seer Trilogy will go, but I'll be along for the ride with bells on!
About the author:
I write books about teens who must do brave things. I'm originally from California, but I moved to Ohio to marry my husband, who is the smartest man I know. We live in Columbus with my teenaged stepsons, who are awesome. My books tend to contain lots of adventure, a little magic and romance, and smart girls who make (mostly) smart choices.