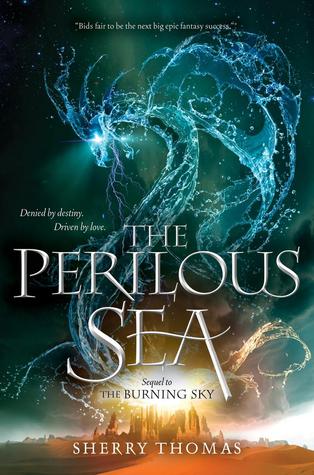 Release date:
September 16, 2014
Author info:
Website
|
Twitter
|
Facebook
Publisher:
Balzer + Bray
Pages:
414
Format:
Egalley
Source:
Publisher provided for review through Edelweiss
Buy the book:
Barnes & Noble
|
Amazon
|
The Book Depository
After spending the summer away from each other, Titus and Iolanthe (still disguised as Archer Fairfax) are eager to return to Eton College to resume their training to fight the Bane. Although no longer bound to Titus by a blood oath, Iolanthe is more committed than ever to fulfilling her destiny—especially with the agents of Atlantis quickly closing in.

Soon after arriving at school, though, Titus makes a shocking discovery, one that makes him question everything he previously believed about their mission. Faced with this devastating realization, Iolanthe is forced to come to terms with her new role, while Titus must choose between following his mother's prophecies—and forging a divergent path to an unknowable future.
DANG. I did it again. When I read
The Burning Sky
months after its release and loved it, I told myself that wouldn't be the case for its sequel,
The Perilous Sea
. I was over the moon to get a review copy months in advance--and I totally meant to read it! Yet, here we are, months after release--again--and I just read
The Perilous Sea
. And like its predecessor, it was awesome.
Even more so than
The Burning Sky
,
The Perilous Sea
is addicting. Told in alternating before- and after-style points of view, we see Titus and Iolanthe head back to Eton for another term after spending the summer accidentally apart and the two, sometime in the future, stranded in the middle of the Sahara desert, with no memories of who they are or how they got there, and pursued by Atlantis. While I found the desert island line slightly more compelling because its so filled with mystery (and because you get to watch Titus and Iolanthe fall in love
all over again
and in a completely different way), I was never rushing to get to one over the other. The line at Eton is so terribly important, because so many bits and pieces are beginning to come together. It makes for such a fast read.
Throughout the book, Titus is struggling with his mother's prophecies. He has so entrenched himself in the idea that her visions are infallible that he's been almost blindly following them. So, when he realizes her prophecies are telling him something he doesn't want to hear and that his original interpretation of them could be wrong, he has to confront how he's viewed them all along and whether or not that future she saw is absolute. Titus' dedication to the future his mother saw is a sticking point in his relationship with Iolanthe, but, god bless that girl, she comes through so well for him. This challenge serves as an opportunity for the two of them to grow together, challenged by circumstances and possibly fate.
The Perilous Sea
is, truly, an exceptional sequel. In its interesting storyline, development of its principal characters, and its delving into those secondary characters that may have once seemed like throwaways, it will continually entertain and, in the end, shock you. Beware the cliffhanger ending--it'll only make you more desperate for book 3!
About the author:
Sherry Thomas immigrated to the United States from China when she was thirteen and taught herself English in part by devouring science fiction and romance novels. She is the author of several acclaimed novels in that genre and is the recipient of two RITA Awards. When not writing, she thinks about the zen and zaniness of her profession, plays computer games with her sons, and reads as many fabulous books as she can find. Sherry lives with her family in Houston, Texas.