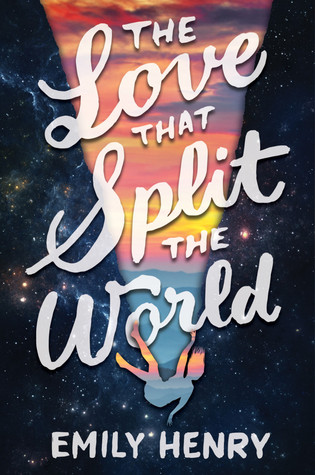 Release date:
January 26, 2016
Author info:
Twitter
|
Facebook
Publisher:
Razorbill
Pages:
400
Format:
ARC
Source:
Gifted
Buy the book:
Barnes & Noble
|
Amazon
|
The Book Depository
Natalie Cleary must risk her future and leap blindly into a vast unknown for the chance to build a new world with the boy she loves.

Natalie's last summer in her small Kentucky hometown is off to a magical start…until she starts seeing the "wrong things." They're just momentary glimpses at first—her front door is red instead of its usual green, there's a pre-school where the garden store should be. But then her whole town disappears for hours, fading away into rolling hills and grazing buffalo, and Nat knows something isn't right.

That's when she gets a visit from the kind but mysterious apparition she calls "Grandmother," who tells her: "You have three months to save him." The next night, under the stadium lights of the high school football field, she meets a beautiful boy named Beau, and it's as if time just stops and nothing exists. Nothing, except Natalie and Beau.

Emily Henry's stunning debut novel is Friday Night Lights meets The Time Traveler's Wife, and perfectly captures those bittersweet months after high school, when we dream not only of the future, but of all the roads and paths we've left untaken.
The Love That Split the World
was rather...unexpected. Instead of the kind of book that's enjoyable but largely ruminates on the post-high school limbo and feelings that come with that, you're given this very thoughtful experience that focuses so intently on being far-reaching and philosophical that it kind of falls flat? There's nothing that says The Love That Split the World isn't well-written or very thought out, but there's a lot that says it should have been more emotionally affecting (before the final few pages) and heart-pounding.
Giving a book such a title promises a love story that'll stop you in your tracks, that will leave you wishing for more pages, more moments, more time. Instead, the romance between Natalie and Beau relies on their "connection", not on the kinds of things that forge lasting relationships. It's the kind of relationship that makes Romeo and Juliet look like immature kids, despite the mastery of the pen that wrote them. Maybe it'd last, maybe it wouldn't--but it doesn't necessarily offer the grounds to prove it would, despite the prettiness of the language that delivers it.
The strength of
The Love That Split the World
is how strongly held up by stories it is. The moments of Grandmother telling Natalie stories are far and away the most fascinating parts of the book--especially in contrast to the complicated theoretics of time travel and alternate realities we're given. They range in kind, most certainly including Native American folk tales and Biblical stories, and how they're woven into the novel is wonderful and masterful. Had all the jargon been ditched in favor of a more mystical approach, I bet I'd have liked this much more.
Throughout the novel, I found myself shrugging, wondering to myself how much I cared. It's a long book, and I never felt fully engaged until the final pages, when the emotional core finally does come to the front--but the bits that should have been surprising weren't, and the big moment isn't any kind of a shock. To see it happen is still affecting (finally), though.
The Love That Splits the World
is a high-reaching book, one I can't say reached the expectations it set in me, but one that makes for a thoughtful read. I would argue it likely reaches too far, trying too hard to be both scientifically credible and based in heritage, instead of being fully immersed in one and giving more meat to the love that (supposedly) split the world.
About the author:
Emily Henry is full-time writer, proofreader, and donut connoisseur. She studied creative writing at Hope College and the New York Center for Art & Media Studies, and now spends most of her time in Cincinnati, Ohio, and the part of Kentucky just beneath it. She tweets @EmilyHenryWrite.