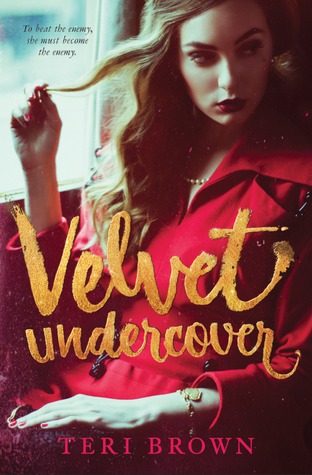 Release date:
October 20, 2015
Author info:
Website
|
Twitter
|
Facebook
Publisher:
Balzer + Bray
Pages:
336
Format:
Egalley
Source:
Publisher provided for review through Edelweiss
Buy the book:
Barnes & Noble
|
Amazon
|
The Book Depository
Samantha Donaldson's family has always done its duty for the British Crown. In the midst of World War I, seventeen-year-old Sam follows in their footsteps, serving her country from the homefront as a Girl Guide and messenger for the intelligence organization MI5. After her father disappears on a diplomatic mission, she continues their studies of languages, high-level mathematics, and complex puzzles and codes, hoping to make him proud.

When Sam is asked to join the famed women's spy group La Dame Blanche she's torn—this could be the adventure she's dreamed of, but how can she abandon her mother, who has already lost a husband to the war? But when her handlers reveal shocking news, Sam realizes there's no way she can refuse the exciting and dangerous opportunity.

Her acceptance leads her straight into the heart of enemy territory on a mission to extract the most valuable British spy embedded in Germany, known to the members of LDB only as Velvet. Deep undercover within the court of Kaiser Wilhelm II, Samantha must navigate the labyrinthine palace and its many glamorous—and secretive—residents to complete her assignment. To make matters worse she finds herself forming a forbidden attraction to the enemy-a dangerously handsome German guard. In a place where personal politics are treacherously entangled in wartime policy, can Samantha discover the truth and find Velvet before it's too late…for them both?

From author Teri Brown comes the thrilling story of one girl's journey into a deadly world of spycraft and betrayal—with unforgettable consequences.
I so liked Teri Brown's previous YA series (
Born of Illusion
and
Born of Deception
), so needless to say I'd looked forward to a new book by her since I'd heard of it. Just like those two,
Velvet Undercover
was a fresh and fun historical fiction with a denouement that thrills.
Sam is your rather normal British girl, wishing to do her part for the war effort. Because she's got a distinct skill in German, she's recruited for a spy agency--with the promise of information about her missing father, should she prove useful. Quickly, Sam is entrenched in the court of Kaiser Wilhelm II, teaching the family's children, listening and hoping for a trickle of information to help her find the elusive Velvet. Of course, nothing is as it seems, and soon every loyalty Sam thought she could trust (or not trust) is called into question and she has to trust her instincts, alone in the enemy's camp.
Though at times Sam is one of those characters you want to yell at a bit, just because she's willfully ignorant to things she should know, she's very smart, unprepared to let the tides of war pull her back and forth. Sam is the girl we all hope we would have been, had we lived at the time.
Spies! Girl power! That's enough to convince you, yeah? If you like historical fiction that's not too heavy,
Velvet Undercover
--and Teri Brown's other YA series, for that matter--are just the thing for you. They won't disappoint!
About the author:
Well behaved women rarely make history. Teri Brown lived that quote way before she ever even heard it. The two things she is most proud of, (besides her children), is that she jumped out of an airplane once and she beat the original Legend of Zelda video game. She is a novel writer, head banger, pet keeper, math hater, cocktail drinker, booty shaker, book reader, city slicker, food fixer, French kisser, rule breaker, wine sipper and word scribbler. She loves her husband, kitties and chocolate.