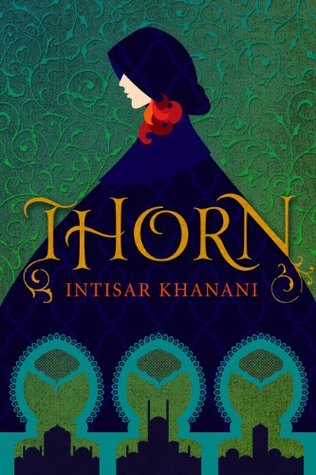 Release date:
May 30, 2012
Author info:
Website
|
Twitter
|
Facebook
Publisher:
Self-published
Pages:
246
Format:
Egalley
Source:
Author provided for review through Netgalley
Buy the book:
Barnes & Noble
|
Amazon
For Princess Alyrra, choice is a luxury she's never had ... until she's betrayed.

Princess Alyrra has never enjoyed the security or power of her rank. Between her family's cruelty and the court's contempt, she has spent her life in the shadows. Forced to marry a powerful foreign prince, Alyrra embarks on a journey to meet her betrothed with little hope for a better future.

But powerful men have powerful enemies--and now, so does Alyrra. Betrayed during a magical attack, her identity is switched with another woman's, giving Alyrra the first choice she's ever had: to start a new life for herself or fight for a prince she's never met. But Alyrra soon finds that Prince Kestrin is not at all what she expected. While walking away will cost Kestrin his life, returning to the court may cost Alyrra her own. As Alyrra is coming to realize, sometime the hardest choice means learning to trust herself.
I really don't read self-published books often--and that's not because I don't think there are certainly wonderful self-published books. If I had to put it in words, it's...that I don't have a proven way of finding the good ones? I don't know that it makes sense, but it's the truth. But, sometimes those self-published novels pop up on Netgalley, and I see them in a much more limited way than the millions of books in the Kindle store. That was the case with
Thorn
, and the moment I read the synopsis I knew I had to read it. I've loved the goose girl story since reading Shannon Hale's
The Goose Girl
, and while that's a hard book to live up to, I loved the idea of another retelling. And pleasingly, I really enjoyed
Thorn
, and I'm pretty mad at myself for not reading it as soon as I got it.
What's so lovely about reading a fairy tale retelling is seeing a familiar story spun into something new yet familiar, and each author who takes on the story manages to make it different, seemingly no matter how many times it's adapted. And what I loved about
Thorn
was how true to the fairy tale it was, all while making the story fresh and adding a strong message.
Alyrra is rather a wonderful character. In the beginning, she's reticent and pliable, doing as others wish, mostly to protect herself. She's clearly a good person, kind to maids and happy to work hard, but she's trampled by those around her. Of course, it takes adversity for her to come out of her shell, and though she's only just found a safe space, she has to come to terms with a life larger than safety.
It's always moments like this that I get mad at myself for not branching out more and trying self-published titles. What lovely chance of fate brought me to
Thorn
? And what if I miss out on so many more? If I haven't made my message clear, I liked
Thorn
and definitely think you should read it. now it's clear!
About the author:
Intisar Khanani grew up a nomad and world traveler. Born in Wisconsin, she has lived in five different states as well as in Jeddah on the coast of the Red Sea. She first remembers seeing snow on a wintry street in Zurich, Switzerland, and vaguely recollects having breakfast with the orangutans at the Singapore Zoo when she was five. She currently resides in Cincinnati, Ohio, with her husband and two young daughters. Until recently, Intisar wrote grants and developed projects to address community health with the Cincinnati Health Department, which was as close as she could get to saving the world. Now she focuses her time on her two passions: raising her family and writing fantasy. Intisar's next two projects include a companion trilogy to Thorn, following the heroine introduced in her short story The Bone Knife, and The Sunbolt Chronicles, a novella serial following a young mage with a propensity to play hero, and her nemesis, a dark mage intent on taking over the Eleven Kingdoms.