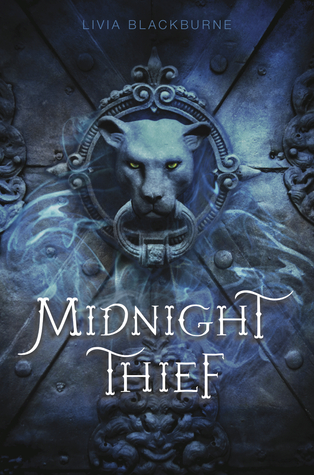 Release date:
July 8, 2014
Author info:
Website
|
Twitter
|
Facebook
Publisher:
Disney-Hyperion
Pages:
368
Format:
ARC
Source:
Provided by publisher for review
Buy the book:
Barnes & Noble
|
Amazon
|
The Book Depository
Growing up on Forge's streets has taught Kyra how to stretch a coin. And when that's not enough, her uncanny ability to scale walls and bypass guards helps her take what she needs.

But when the leader of the Assassins Guild offers Kyra a lucrative job, she hesitates. She knows how to get by on her own, and she's not sure she wants to play by his rules. But he's persistent—and darkly attractive—and Kyra can't quite resist his pull.

Tristam of Brancel is a young Palace knight on a mission. After his best friend is brutally murdered by Demon Riders, a clan of vicious warriors who ride bloodthirsty wildcats, Tristam vows to take them down. But as his investigation deepens, he finds his efforts thwarted by a talented thief, one who sneaks past Palace defenses with uncanny ease.

When a fateful raid throws Kyra and Tristam together, the two enemies realize that their best chance at survival—and vengeance—might be to join forces. And as their loyalties are tested to the breaking point, they learn a startling secret about Kyra's past that threatens to reshape both their lives.
Midnight Thief
was one of my most anticipated reads of the year, partially simply because it looked and sounded awesome and partially because the prequel novella was, in fact, actually awesome. It's got a fascinating premise--I mean, a thief and a league of assassins? Come on!--and there's a lot that is done really well, making it a well-crafted and interesting story.
When writing a fantasy novel, it's all about the worldbuilding. In
Midnight Thief
, it's done quickly, so you're immersed by a few chapters in, but also subtly, so there's no info dumping simply to get the reader up to speed. Kyra is a strong, independent character who does her best to survive and help the kids on the streets living in the same conditions she did when she was younger. She's got a good sense of right and wrong and fights for those she loves, and it's easy to come to care for her--especially when you know how hard she's trying both to abide by her morals and scrape by in a city that is less than moral.
The plot is filled with twists and turns, some you'll see coming but others you absolutely won't. At times, even when you see one coming, you certainly never guess the full extent. In the tradition of great fantasy, the mix of character, world, and fantastic elements is just right, striking a balance that keeps everything just right. It's easy to tell the sequel will strike the same chords.
As technically well done as
Midnight Thief
was, my only qualm is that it just didn't fully capture my imagination. I have memories of finishing some of my favorite fantasy novels and immediately turning back to my favorite passages rereading and dissecting (and swooning, at times). It would be days before I felt myself really able to immerse into a new book again. Not the case here. While it was a really excellent novel, checking all the boxes, my heart never went pitter patter. This is wholly a me thing, but goes into the rating nonetheless.
Despite that,
Midnight Thief
is still a standout YA fantasy novel. It's clearly crafted with care and precision, and its storyline promises more great things to come in the next book. If you like YA fantasy, I'd absolutely recommend it.
About the author:
Livia Blackburne has a PhD in neuroscience from the Masschusetts Institute of Technology, where she conducted research on the neural correlates of reading. She still blogs on the intersection of writing and brain science (blog.liviablackburne.com), and she now lives in Los Angeles with her husband. MIDNIGHT THIEF is her debut novel.