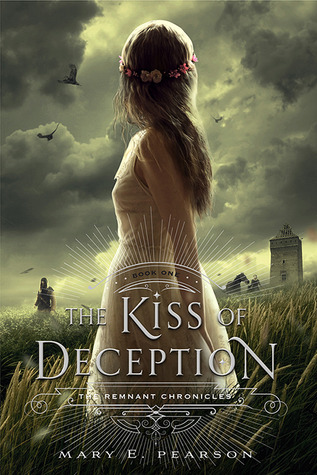 Title:
The Kiss of Deception
Author:
Mary E. Pearson
Release date:
July 8, 2014
Pages:
489
In this timeless new trilogy about love and sacrifice, a princess must find her place in a reborn world.

In a society steeped in tradition, Princess Lia's life follows a preordained course. As First Daughter, she is expected to have the revered gift of sight—but she doesn't—and she knows her parents are perpetrating a sham when they arrange her marriage to secure an alliance with a neighboring kingdom—to a prince she has never met.

On the morning of her wedding, Lia flees to a distant village. She settles into a new life, hopeful when two mysterious and handsome strangers arrive—and unaware that one is the jilted prince and the other an assassin sent to kill her. Deception abounds, and Lia finds herself on the brink of unlocking perilous secrets—even as she finds herself falling in love.

My teaser, from 19% in the egalley:
He released his grip, bid me a hasty good night, then abruptly turned and disappeared back down the path.

He was unsettled. I had knocked him off kilter. More than seeing this, I had felt it, his disquiet palpable on my skin, ticking at my neck. How? What had I done? I didn't know, but I stared into the black hollows of the path whether he disappeared until the wind rattled the branches above me, reminding me it was late, I was alone, and the woods were very dark.
Happy release day to
The Kiss of Deception
! I'm quite excited to read this! I've seen some mixed reviews, but I just love the sound of it so I'm hoping I'm on the positive side. :)
I'll be visiting around and visiting back, so leave me links to your teasers! :) Happy Tuesday!