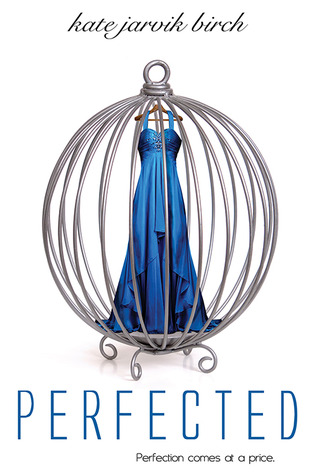 Release date:
July 1, 2014
Author info:
Website
|
Twitter
|
Facebook
Publisher:
Entangled Teen
Pages:
304
Format:
Egalley
Source:
Publisher provided through Netgalley
Buy the book:
Barnes & Noble
|
Amazon
Perfection comes at a price.

As soon as the government passed legislation allowing humans to be genetically engineered and sold as pets, the rich and powerful rushed to own beautiful girls like Ella. Trained from birth to be graceful, demure, and above all, perfect, these "family companions" enter their masters' homes prepared to live a life of idle luxury.

Ella is happy with her new role as playmate for a congressman's bubbly young daughter, but she doesn't expect Penn, the congressman's handsome and rebellious son. He's the only person who sees beyond the perfect exterior to the girl within. Falling for him goes against every rule she knows…and the freedom she finds with him is intoxicating.

But when Ella is kidnapped and thrust into the dark underworld lurking beneath her pampered life, she's faced with an unthinkable choice. Because the only thing more dangerous than staying with Penn's family is leaving…and if she's unsuccessful, she'll face a fate far worse than death.

For fans of Keira Cass's Selection series and Lauren DeStefano's Chemical Garden series, Perfected is a chilling look at what it means to be human, and a stunning celebration of the power of love to set us free, wrapped in a glamorous—and dangerous—bow.
I rather devoured
Perfected
. It was a one-sitting read and one that I largely enjoyed while I did so. At the same time, it felt rather...lacking, as well. That could be the world-building, or lack thereof, or it could be that I never felt like Ella was in real, pressing danger or that her situation never felt as horrific as it should have. It's still an interesting read and an idea that is thought-provoking, but not a book that I'll find myself thinking about next week.
The idea that people (really, just women) created in a lab are bred and trained to be "pets" for the wealthy is one that is rife with ideas to explore. And some aspects of this are explored in
Perfected
, but they're not deep and they're not even prevalent. At the same time, it just never feels dangerous, even at the climax of the story, so it was hard for me to become engrossed in a story that didn't have any stakes and didn't make me question things. What happens to Ella is appropriately horrific in many ways, but it just doesn't have that sinister feel to it that would make the story one that sticks with you.
I also never got a good feel for the world. There's little to no explanation of the science behind the pets or why they came about, aside from a mention that they're created so people don't have to think of them as human. It's interesting that it's not post-apocalyptic or even futuristic in any manner aside from the pets, but what led to this happening? There are lots of mentions of the congressman working to get a bill passed to make the pets legal, but things like opposition are glossed over, with only a nosy neighbor to represent it. If we have the uproar that we have in this country over even the tiniest matters, why wouldn't something like genetically-engineered humans have caused more of a fuss? And continue to cause a fuss even after the law passed? It felt a little like, "Oh, we passed this law so now everyone is fine with this, except for those few radicals, and they're barely a threat anyways," and that just didn't feel right.
None of this is to say that
Perfected
isn't an entertaining or interesting book, one that can raise questions, but I simply think it could have been executed better. A darker tone and a better explained reasoning would have made all the difference, because Ella is a sympathetic character who grows a lot and the romance is appealing. There are definitely people who will love it, too, but it just needed more for me.
About the author:
Kate has loved writing ever since she was a little girl. She wrote her first novel in fourth grade (the main character was suspiciously similar to herself). As an adult, her essays and short stories have been published in numerous journals. Her first play, (a man enters), co-written with Elaine Jarvik, was produced in 2011 by Salt Lake Acting Co.
​
Kate studied painting and drawing at the University of Utah and graduated with a Bachelors of Fine Arts degree in 2005. Her work is currently being published by Poems Publishing and is sold internationally. Over the years her paintings have been used in feature films and TV shows, such as Glee and 21 Jump Street.
​
Kate lives in Salt Lake City, Utah with her husband and their three children.