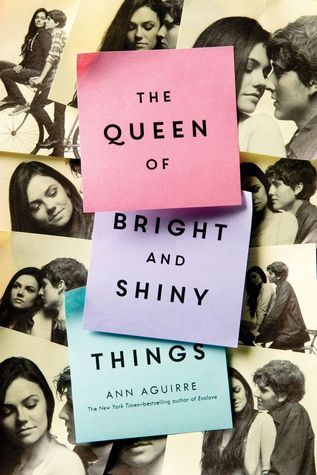 Release date:
April 7, 2015
Author info:
Website
|
Twitter
|
Facebook
Publisher:
Feiwel & Friends
Pages:
328
Format:
ARC
Source:
Publisher provided for review
Buy the book:
Barnes & Noble
|
Amazon
|
The Book Depository
Sage Czinski is trying really hard to be perfect. If she manages it, people won't peer beyond the surface, or ask hard questions about her past. She's learned to substitute causes for relationships, and it's working just fine… until Shane Cavendish strolls into her math class. He's a little antisocial, a lot beautiful, and everything she never knew she always wanted.

Shane Cavendish just wants to be left alone to play guitar and work on his music. He's got heartbreak and loneliness in his rearview mirror, and this new school represents his last chance. He doesn't expect to be happy; he only wants to graduate and move on. He never counted on a girl like Sage.

But love doesn't mend all broken things, and sometimes life has to fall apart before it can be put back together again…
I describe a lot of books as being cute, but I don't often say many of those are sweet. While at times
The Queen of Bright and Shiny Objects
is cute, I really think the best description includes sweet. There's a lot of darkness in the pasts of Sage and Shane, but their efforts to be the best people they can be--individually and together--is heartening and just lovely to read about. Not to mention, their romance is just wonderful.
What I think is wonderful about
The Queen of Bright and Shiny
things is that it deals with so many problems, both of Sage and Shane's, but those don't overwhelm the story and, at the same time, they aren't diminished. It's this fine balance of weight and levity; it makes you feel how serious their pasts are, but you're still encouraged for the present and future.
I did find that the drama with Dylan was a little..over the top, I guess? At moments, I could envision him as an old-timey villain, twirling his mustache and rubbing his hands together, or saying the Wicked Witch of the West's "I'll get you my pretty, and your little dog, too!" It felt a little cartoony. He's given a good back story and explanation toward his actions, but it didn't stop how it felt. Also, some cheesy lines throughout by different characters--but I can handle some cheese.
I don't often get so struck by a section of a book that I immediately put it down to hunt for something to mark it. I often don't mark a thing in a single book for months. But in
The Queen of Bright and Shiny Things
, there are moments that made me stop, just to make sure I wouldn't lose that paragraph.
About the author:
Ann Aguirre is a New York Times & USA Today bestselling author with a degree in English Literature; before she began writing full time, she was a clown, a clerk, a voice actress, and a savior of stray kittens, not necessarily in that order. She grew up in a yellow house across from a cornfield, but now she lives in sunny Mexico with her husband, children, and various pets. She likes books, emo music, and action movies. She writes all kinds of genre fiction for adults and teens.