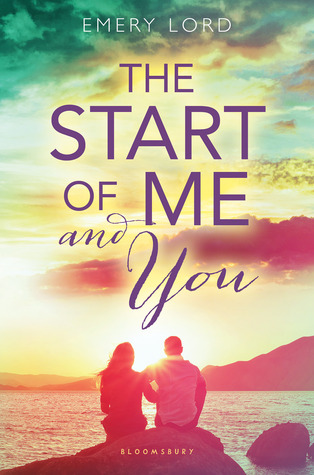 Release date:
March 31, 2015
Author info:
Website
|
Twitter
Publisher:
Bloomsbury USA Children's
Pages:
384
Format:
Egalley
Source:
Publisher provided for review through Netgalley
Buy the book:
Barnes & Noble
|
Amazon
|
The Book Depository
Following her pitch-perfect debut Open Road Summer, Emery Lord pens another gorgeous story of best friends, new love, & second chances.

Brimming with heartfelt relationships and authentic high-school dynamics The Start of Me and You proves that it's never too late for second chances.

It's been a year since it happened—when Paige Hancock's first boyfriend died in an accident. After shutting out the world for two years, Paige is finally ready for a second chance at high school . . . and she has a plan. First: Get her old crush, Ryan Chase, to date her—the perfect way to convince everyone she's back to normal. Next: Join a club—simple, it's high school after all. But when Ryan's sweet, nerdy cousin, Max, moves to town and recruits Paige for the Quiz Bowl team (of all things!) her perfect plan is thrown for a serious loop. Will Paige be able to face her fears and finally open herself up to the life she was meant to live?
Well, it's another delightful book from Emery Lord! Of course, after the joy that was
Open Road Summer
, high expectations were involved in picking up
The Start of Me and You
, but Emery Lord does not disappoint. It's another sweet and enjoyable book, with just a bit of swoon and more than enough happiness to fill your heart.
I just loved that Paige and Max's relationship develops first as friendship. They find a kindred spirit in the other, and it's just through talking that they become close. Max is just the person Paige needs in her life--someone to hear her and someone to draw her out. At times in the beginning of the book, I found Paige to be too full of herself in her judgment of Max, but getting to know Max changes all of that for her. He's absurdly lovable in how he's unabashedly himself; he loves the things he loves and he feels no shame for that.
And oh the friendships! How she does it, I don't know, but Emery Lord hits Paige's relationship with her three best friends perfectly--but especially with Tessa, her closest friend. Every girl needs--and, gosh, I hope has--a Tessa, a friend who is there through thick and thin, who knows exactly what is needed, who may outshine the other but never leaves her in the dark. Her friends (Kayleigh, Morgan, and Tessa) are drawn carefully and are easily distinguishable. Through all the pain Paige has gone through, before the start of the book and during it, her friends are there, supporting her (and we can't forget, she supports them too!). It's the moments between them that give the biggest warm fuzzies in the book.
Emery Lord's books are all I could want from contemporary books. They're filled with genuine moments of friendship and love between people who care about one another and only want the best.
The Start of Me and You
has just a hint of nerdiness (
Firefly
! Indiana Jones! Literature! Vocabulary! Grammar!) thrown in, but I can assure you it'll leave you smiling and wishing for more.
About the author:
Emery Lord is a 20-something Midwestern girl who writes stories about high school and best friends and weird families and the crushes that make you feel combustibly alive and also more awkward than you thought was possible. If you're not sure how to pronounce Emery, try slurring the name "Emily," and that will get you really close.

She lives in Cincinnati in a 100 year-old pink row house with her BFF/husband, a closet full of dresses, and lots of books. If karaoke-ing in grocery store aisles or guzzling coffee while impulse shopping were illegal, Emery would be writing her overemotional YA books from jail. Also, she makes up words sometimes. Like combustibly.

OPEN ROAD SUMMER, her first YA novel, is out now with Bloomsbury. Her second, The Start of Me & You, will be released March 31, 2015.