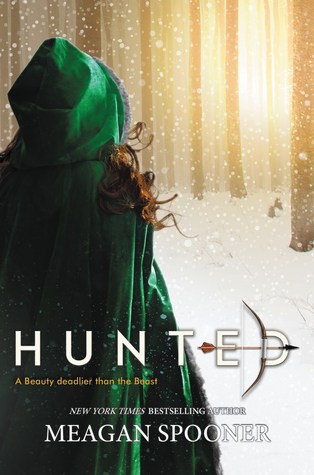 Release date:
March 14, 2017
Author info:
Website
|
Twitter
|
Facebook
Publisher:
HarperTeen
Pages:
384
Format:
Egalley
Source:
Publisher provided for review through Edelweiss
Buy the book:
Barnes & Noble
|
Amazon
|
The Book Depository
Beauty knows the Beast's forest in her bones—and in her blood. Though she grew up with the city's highest aristocrats, far from her father's old lodge, she knows that the forest holds secrets and that her father is the only hunter who's ever come close to discovering them.

So when her father loses his fortune and moves Yeva and her sisters back to the outskirts of town, Yeva is secretly relieved. Out in the wilderness, there's no pressure to make idle chatter with vapid baronessas…or to submit to marrying a wealthy gentleman. But Yeva's father's misfortune may have cost him his mind, and when he goes missing in the woods, Yeva sets her sights on one prey: the creature he'd been obsessively tracking just before his disappearance.

Deaf to her sisters' protests, Yeva hunts this strange Beast back into his own territory—a cursed valley, a ruined castle, and a world of creatures that Yeva's only heard about in fairy tales. A world that can bring her ruin or salvation. Who will survive: the Beauty, or the Beast?
Though I love the Starbound series Meagan writes with Amie Kaufman, I haven't read any of her solo books, so I didn't quite know what to expect coming into
Hunted
. However, I'd seen a few friends raving and Beauty and the Beast is my
favorite
, so I was excited to try Meagan's adaptation. I'm even more excited to say that I loved it!
Hunted
reminded me of one of my favorite author's Beauty and the Beast retellings: Robin McKinley. She has two:
Beauty
and
Rose Daughter
. I love them because they're lyrical, dark (more so in the case of
Rose Daughter
), and compelling.
Hunted
evokes a lot of the same moodiness, and it works more in the vein of the traditional fairy tales, hitting more complicated notes and emotions, giving the reader more to interpret and less to be told. While I don't always prefer my retellings this way, I do find the ones that strike those chords to be more resonant and stay with me longer.
Yeva is just the kind of girl we can get behind. She wants more from her life than what she's been offered, but she recognizes her duty to her family. She's actually happier in many ways when her father loses his fortune and her family is forced to live in a hunting cabin in the middle of nowhere. Her being different isn't as noticeable, and she can hunt. Her desire to hunt the Beast is understandable, and when she finally understands him and begins to soften, it makes sense.
However,
Hunted
isn't going to read like I think many people want from a Beauty and the Beast retelling. It's not overly romantic, there's no dancing, and our Beast is often more beastly that we're used to in our recent retellings. For me, this works, but I don't think it will work for everyone.
Hunted
reads more like an adult high fantasy in a lot of ways, so it's not going to appeal to every YA reader.
From the beginning of
Hunted
, I was entranced by the gorgeous writing and new yet familiar take on my favorite fairy tale. I was rewarded with a thoroughly beautiful story that reminded me of some of my favorite books, and a new hope that Meagan Spooner will write more books like this! (I'm happy with her sci-fi, but more fantasy, please?)
About the author:
Meagan Spooner grew up reading and writing every spare moment of the day, while dreaming about life as an archaeologist, a marine biologist, an astronaut. She graduated from Hamilton College in New York with a degree in playwriting, and has spent several years since then living in Australia. She's traveled with her family all over the world to places like Egypt, South Africa, the Arctic, Greece, Antarctica, and the Galapagos, and there's a bit of every trip in every story she writes.

She currently lives and writes in Asheville, North Carolina, but the siren call of travel is hard to resist, and there's no telling how long she'll stay there.

In her spare time she plays guitar, plays video games, plays with her cat, and reads.