Hi! It's been a little while but, as promised, I'm here to wrap up 2015! And that means I'll be back to posting regularly with the new year. It might not be six days a week, like I've sustained previously, but definitely several times a week. Woo 2016! I've missed you guys!
2015 Reading Stats
Best in Books
Best series you started in 2015? Best sequel of 2015? Best series ender of 2015?
Does it count if I started
and
ended the series this year? I think so, so the best series I started was the
Shadowfell series
by Juliet Marillier. She always wins--including best sequel, which was the second in this series,
Raven Flight
. As for series ender, I have to choose
Winter
! I mean, how could I not?
Favorite new author you discovered in 2015?
Hmm. There are tons of authors who have been around a while but who I hadn't read till this year... And I don't feel like I
discovered
much of anyone this year, so I'll go with one of those. And that's Sharon Cameron! Clearly, I loved
Rook
, so I had to go back and read her previous series,
The Dark Unwinding
, which was also wonderful. Now she's definitely an auto-buy author for me. :)
Best book from a genre you don't typically read/was out of your comfort zone?
I don't think I read anything that was
that
out of my comfort zone? I got way into historical romance, read a couple of non-fiction titles, and a couple of literary fiction, aside from my normal YA. As I said before, I have read a lot of picture books for work, which is obviously not something I did much of previously... I
really
loved
Bug in a Vacuum
, so I'm going to say that. :D
Most action-packed/thrilling/unputdownable book of the year?
I mean, is there even a question? As I told people countless times, I read the second half of
Illuminae
in record time, without getting up, without speaking to anyone, just eyes glued to the book.
Book you read in 2015 that you are most likely to re-read next year?
I don't re-read much, so that's a hard one! I'm making a tradition of reading the first Harry Potter on New Year's Eve and New Year's Day (if it lasts that long...) so I guess that?
Favorite cover of a book you read in 2015?
Easy, since I think I picked it as my favorite cover of the year last year, but I didn't read it till last month!
A Thousand Pieces of You
, that beautiful, beautiful thing.
Most memorable character of 2015?
I'll have to say Cress from
Winter
! Dang, I love that girl. She was far and away my favorite character of the series from the moment she was introduced and
Winter
only solidified that even further.
Most beautifully written book read in 2015?
I've got a few books warring for precedence in this oneee. Juliet Marillier is always, always perfect, so she'd be a solid choice, but I think what Susan Fletcher did with
A Little In Love
was just wonderful. How she tells Eponine's story brings her so strongly off the page.
Most thought-provoking/life-changing book of 2015?
I don't think I read anything life-changing, but
Brooklyn
was definitely thought-provoking. I saw the movie, so I read the book too. Eilis is inscrutable, even on the page, so it's a task to figure her out.
Book you can't believe you waited UNTIL 2015 to finally read?
The Girl of Fire and Thorns Stories
! It's one of my favorite series, so I can't actually believe I didn't read the stories that went with it, even though I'm not
big
on the shorts that have become the fad. So it takes a special series to have me read them. :)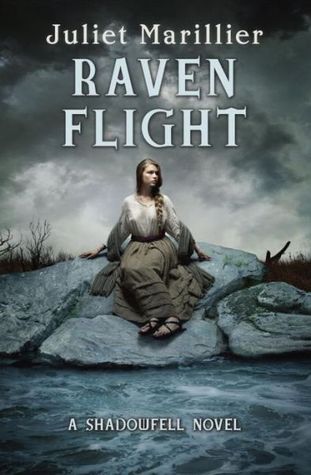 Favorite passage/quote from a book you read in 2015?
Let there be a time in the future, I prayed, when he laughs with his children, and plays on the shore with them, and spends all his nights in loving arms. Let us have that. To whom I was praying I did not know. The future was in our own hands. If we wanted a world where such things were possible, it was for us to make it.
-- Juliet Marillier,
Raven Flight
Shortest and longest book you read in 2015?
Shortest -
The Golden Compass Graphic Novel, Vol. 1
at 80 pages (shortest non-novella!)
Longest -
Winter
at 824 pages
Book that shocked you the most?
Ooh, the end of
The Winner's Crime
! Oh my gosh. I should've expected it, but I totally didn't.
OTP OF THE YEAR?
I've a lot of OTP, but the one I've not seen happen yet (but totally will or I'll cry) is Verity and Henry from
Rebel Mechanics
! They're just too perfect.
Favorite non-romanctic relationship of the year?
Kady and AIDAN. Hehehe.
Favorite book you read in 2015 from an author you've read previously?
To spread the love,
Walk on Earth a Stranger
by Rae Carson! Rae is queen. :)
Best book you read in 2015 that you read based SOLELY on a recommendation from somebody else/peer pressure?
I definitely read
Romancing the Duke
because of
Cyn
and
Chantress
because of
Alyssa's love
of the series!
Newest fictional crush from a book you read in 2015?
I love, love, love Tony in
Brooklyn
. Maybe that's affected because of the movie, but that's the source! (SEE BROOKLYN, Y'ALL.)
Best worldbuilding/most vivid setting you read this year?
Uprooted
wins in so many ways.
Book that put a smile on your face/was the most FUN to read?
The Haunted Mansion: Imagineering a Disney Classic
. Yes. So much fun to read all about the development of The Haunted Mansion and all of its iterations.
Book that made you cry or nearly cry in 2015?
Practically every one?
Winter
or
A Spark Unseen
probably made me shed the most tears, though.
Hidden gem of the year?
I don't think I've seen enough about
The Ghosts of Heaven
by Marcus Sedgwick. So interesting, so cool.
Book that crushed your soul?
Nothing hurt me too, too badly, but
Winter
is certainly a contender. Maybe
The Winner's Crime
too.
Most unique book you read in 2015?
The Game of Love and Death
by Martha Brockenbrough. How could you not be intrigued by a game played by love and death? So cool.
Book that made you the most mad (doesn't necessarily mean you didn't like it)?
Lair of Dreams
! Just because WHO KNOWS HOW MANY YEARS IT'LL BE BEFORE I GET THE NEXT ONE?!? Libba Bray is wonderful, but she takes tooo loooong.
Your Blogging/Bookish Life
Honestly, I haven't done the level of blog visiting I should have, so shamefully, I don't actually have an answer for this. A resolution for 2016!
It's a toss up between the Libba Bray and Sarah J. Maas signings, but I'd have to say Libba Bray wins, just because she was wonderful and I've been a fan for SO long.
Is it cheating to say every time I got an ARC in the mail from a publisher? Even after almost five years, those packages are like little Christmases all year and they're absolutely my favorite.
Actually doing it! It's so easy to let things slide when you're busy, and I'm bad about holding myself accountable to the things I want to do. It's a matter of telling myself, "Oh, I'll make sure to do that tomorrow..." Over and over again. I'm resolving not to do that this year, because so many people are busier than I am and manage it, so I can do it too.
Just my Goodreads goal (even though I had to lower that a few months ago when it was obvious it wasn't going to happen...). And haha, I failed so hard at challenging myself to watch the AFI's 25 best musicals... I think this is why I don't do many challenges.
Looking Ahead
Regularity! More visiting other blogs!