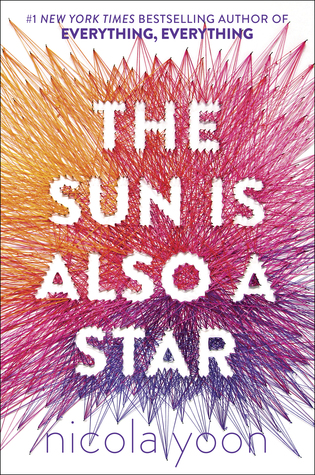 Release date:
November 1, 2016
Author info:
Website
|
Twitter
Publisher:
Delacorte Press
Pages:
384
Format:
ARC
Source:
Publisher provided for review
Buy the book:
Barnes & Noble
|
Amazon
|
The Book Depository
Natasha: I'm a girl who believes in science and facts. Not fate. Not destiny. Or dreams that will never come true. I'm definitely not the kind of girl who meets a cute boy on a crowded New York City street and falls in love with him. Not when my family is twelve hours away from being deported to Jamaica. Falling in love with him won't be my story.

Daniel: I've always been the good son, the good student, living up to my parents' high expectations. Never the poet. Or the dreamer. But when I see her, I forget about all that. Something about Natasha makes me think that fate has something much more extraordinary in store—for both of us.

The Universe: Every moment in our lives has brought us to this single moment. A million futures lie before us. Which one will come true?
I think I've said a few dozen times how contemporaries really aren't my bread and butter, right? But even I can't resist the call of a book that sounds as good as
The Sun Is Also a Star
, especially after hearing the raves people had for
Everything, Everything
.
And
The Sun Is Also a Star
is a rather magical read. I think you have to suspend some of your disbelief to really buy into it, but when you do, you'll fall in love with Natasha and Daniel just as quickly as they fall in love with one another.
I loved the format most, I think. The glimpses into the other character's lives, how their interactions with Natasha and Daniel affect their decisions and create truly momentous changes, is so affecting, and brings the book to another level. These are the kinds of things we don't think about, in books or in our own lives, but I loved realizing it, seeing how those changes could make all the difference. Even as
The Sun Is Also a Star
is a about Natasha and Daniel's day together, falling in love, it's just as much about how those people they're coming in contact with are affected by them. This is not to mention all of the little chapters about things mentioned, like Eyes, or even some of the scientific concepts Natasha mentions. Each intertwines into the story and plays off whatever's happening at the time--and it's spectacular.
The Sun Is Also a Star
is at its heart hopeful. Hopeful that Natasha and her family won't be deported. Hopeful that Daniel will find his way out of his parent's expectations. Hopeful that those we meet along the way can make a difference.
For someone who doesn't particularly enjoy the genre as a whole,
The Sun Is Also a Star
is an unarguably beautiful book. The best books are good no matter what your opinions on the genre are. Read it!
About the author:
Nicola Yoon grew up in Jamaica (the island) and Brooklyn (part of Long Island). She currently resides in Los Angeles, CA with her husband and daughter, both of whom she loves beyond all reason. Her first novel - Everything, Everything - debuted at #1 on the NYT Bestseller list. Her second novel - The Sun Is Also A Star will be published 11/1/2016.