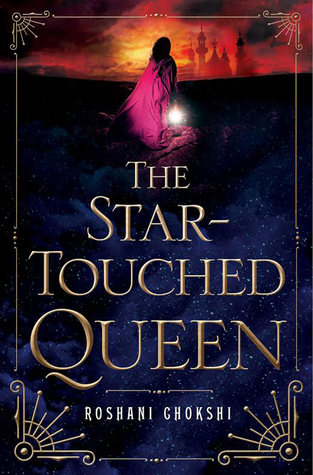 Release date:
April 26, 2016
Author info:
Website
|
Twitter
Publisher:
St. Martin's Griffin
Pages:
342
Format:
Egalley
Source:
Publisher provided for review through Netgalley
Buy the book:
Barnes & Noble
|
Amazon
|
The Book Depository
Fate and fortune. Power and passion. What does it take to be the queen of a kingdom when you're only seventeen?

Maya is cursed. With a horoscope that promises a marriage of death and destruction, she has earned only the scorn and fear of her father's kingdom. Content to follow more scholarly pursuits, her whole world is torn apart when her father, the Raja, arranges a wedding of political convenience to quell outside rebellions. Soon Maya becomes the queen of Akaran and wife of Amar. Neither roles are what she expected: As Akaran's queen, she finds her voice and power. As Amar's wife, she finds something else entirely: Compassion. Protection. Desire…

But Akaran has its own secrets—thousands of locked doors, gardens of glass, and a tree that bears memories instead of fruit. Soon, Maya suspects her life is in danger. Yet who, besides her husband, can she trust? With the fate of the human and Otherworldly realms hanging in the balance, Maya must unravel an ancient mystery that spans reincarnated lives to save those she loves the most…including herself.
Well. I'm pretty sad. I think everyone saying how wonderful
The Star-Touched Queen
is got to me, and I had really high expectations coming in--which were definitely not met. Yes, the writing is pretty and it's an interesting idea, but it fell short for me.
As I said, the writing is pretty. Downright gorgeous in places, but, like I've seen others say, it gets to be too much. There's a difference between making your phrasing evocative and descending almost into senselessness. I'm not saying that's necessarily what's going on in
The Star-Touched Queen
, but very nearly, for sure.
I also found the middle to be desperately boring. At the beginning of the book, I was totally engaged, loving seeing Maya go into the rafters to spy on her father's meetings and was
so
interested to see where she'd be going with Amar. But, once Maya gets to Amar's kingdom, the momentum seems to just
stop
. I went from reaching for the book at every moment to dreading when I'd make myself pick it up again. And I was never sold on Amar and Maya's romance--it made "sense", I suppose, but you've just gotta give me some development of the relationship for me to buy in.
Even so, I didn't completely hate
The Star-Touched Queen
. The writing had some really wonderful moments, and I loved all the stories Maya told her sister. I
know
there are countless people who have loved this and I am definitely in the minority, but I simply couldn't get past those problems.
About the author:
Roshani Chokshi comes from a small town in Georgia where she collected a Southern accent, but does not use it unless under duress. She grew up in a blue house with a perpetually napping bear-dog. At Emory University, she dabbled with journalism, attended some classes in pajamas, forgot to buy winter boots and majored in 14th century British literature. She spent a year after graduation working and traveling and writing. After that, she started law school at the University of Georgia where she's learning a new kind of storytelling. The Star-Touched Queen is her first novel.