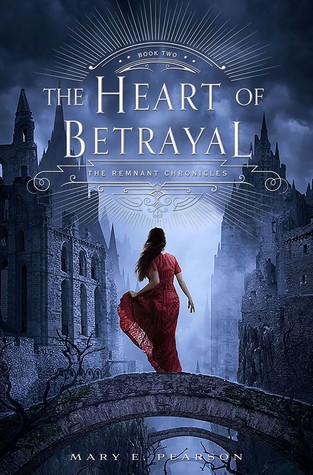 Release date:
July 7, 2015
Author info:
Website
|
Twitter
|
Facebook
Publisher:
Henry Holt and Co.
Pages:
470
Format:
ARC
Source:
Publisher provided for review
Buy the book:
Barnes & Noble
|
Amazon
|
The Book Depository
Held captive in the barbarian kingdom of Venda, Lia and Rafe have little chance of escape. Desperate to save Lia's life, her erstwhile assassin, Kaden, has told the Vendan Komizar that she has the gift, and the Komizar's interest in Lia is greater than anyone could have foreseen.

Meanwhile, nothing is straightforward: There's Rafe, who lied to Lia but has sacrificed his freedom to protect her; Kaden, who meant to assassinate her but has now saved her life; and the Vendans, whom Lia always believed to be savages. Now that she lives among them, however, she realizes that may be far from the truth. Wrestling with her upbringing, her gift, and her sense of self, Lia must make powerful choices that will affect her country... and her own destiny.
Goodness, why did I wait a year from when I got this to read it? What's wrong with me? I do this all the time, y'all, and I still never learn. On the bright side, I waited till I had a copy of
The Beauty of Darkness
, so I can read anytime, instead of waiting--though I'm deeply nervous to finish this series!
Weirdly, I did try to read this one prior to its release, but it couldn't hold me. I always knew I'd come back to it, but I had a lot of trepidation starting again, afraid I'd
still
not be able to get through it. Not the case! From the beginning, I didn't remember much of my original attempt, but I was so absorbed in the story. It's so fun to watch Rafe and Lia, especially, as they navigated the Komizar and Venda, and get their way out of tough scrapes.
And I
loved
seeing Venda. As you could expect, actually being in the supposedly savage country proves that it's not quite the irredeemable, terrible place it sounded in
The Kiss of Deception
. Lia quickly comes not only to appreciate its people and culture, but to love them. She feels a deep connection to their history, and they welcome her with open arms--a reception she's not seen from her own country.
What's the best, though, is that Lia really comes to fight for herself. She starts still a little reliant on Rafe and his plan to get out, but soon she realize that things are only going to happen if she makes them happen. So, she quickly becomes a master manipulator--and wins the people of Venda over. She proves herself adaptable and intelligent.
Needless to say,
The Heart of Betrayal
is a worthy sequel. The stakes set up in
The Kiss of Deception
are raised, and it only makes me more excited for
The Beauty of Darkness
!
About the author:
Mary E. Pearson is the award-winning author of The Jenna Fox Chronicles, The Miles Between, A Room on Lorelei, and Scribbler of Dreams. She writes full-time from her home office in California where she lives with her husband and two golden retrievers.