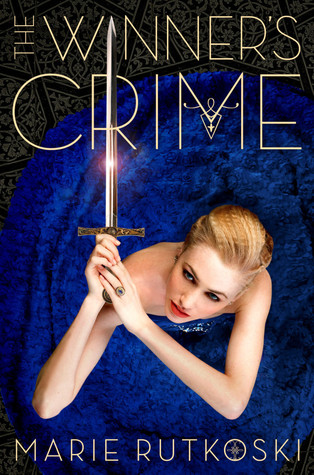 Release date:
March 3, 2015
Author info:
Website
|
Twitter
|
Facebook
Publisher:
Farrar, Straus & Giroux
Pages:
416
Format:
Egalley
Source:
Publisher provided for review
Buy the book:
Barnes & Noble
|
Amazon
|
The Book Depository
Book two of the dazzling Winner's Trilogy is a fight to the death as Kestrel risks betrayal of country for love.

The engagement of Lady Kestrel to Valoria's crown prince means one celebration after another. But to Kestrel it means living in a cage of her own making. As the wedding approaches, she aches to tell Arin the truth about her engagement…if she could only trust him. Yet can she even trust herself? For—unknown to Arin—Kestrel is becoming a skilled practitioner of deceit: an anonymous spy passing information to Herran, and close to uncovering a shocking secret.

As Arin enlists dangerous allies in the struggle to keep his country's freedom, he can't fight the suspicion that Kestrel knows more than she shows. In the end, it might not be a dagger in the dark that cuts him open, but the truth. And when that happens, Kestrel and Arin learn just how much their crimes will cost them.
Marie Rutkoski has hit it out of the park again with
The Winner's Crime
. At once beautiful, heartbreaking, overwhelming, torturous, and a joy, the sequel to
The Winner's Curse
captures the same feelings as the first, while also expanding the world, political intrigue and machinations, and forbidden love between Kestrel and Arin. For me, never has a book so encompassed the phrase "hurts so good."
Against a background of excess--luxurious dresses, glittering jewelry, spun sugar utensils (yes, really)--Kestrel and Arin are mired in an even more difficult situation than before. In the capitol of Valoria, under the all-seeing eye of the emperor, Kestrel is stuck between loyalty to her country and her sympathy for those her people have enslaved. She has to make impossible decisions in the hopes of not risking the ones she loves while also preserving as many lives as possible. She plays a dangerous game, for the emperor is not a gentle man, and he is every bit adept as she is.
For Arin, the struggle is between his love of his people and his love of Kestrel. He can't understand the decisions she has made, but he doesn't know the truth--that her choices are for him, not for herself. He also is coming to terms with the fact that, though his country is free in name, they are far from it. There's more going on than he knows, and he has to find a way to fight for his people--or their very lives are at stake.
There is moment after moment of pure beauty in the writing, little snippets that fly off the page like poetry, and it's such a pleasure to read, especially as the writing gives so much just in its tone. Tension builds and releases, all up to the stunning ending--in more ways than one. This is a sequel that not only builds and betters its predecessor, but it leaves you desperate for more.
About the author:
Marie Rutkoski is the author of the YA novel

The Shadow Society

and the children's fantasy series The Kronos Chronicles, including

The Cabinet of Wonders

,

The Celestial Globe

and

The Jewel of the Kalderash

. Her next project is a YA trilogy that begins with

The Winner's Curse

, which is scheduled to be published in March 2014.





Marie grew up in Bolingbrook, Illinois (a suburb of Chicago), as the oldest of four children. She holds a BA from the University of Iowa and a PhD from Harvard University. Marie is currently a professor at Brooklyn College, where she teaches Renaissance Drama, children's literature and fiction writing. She lives in New York City with her husband and two sons.