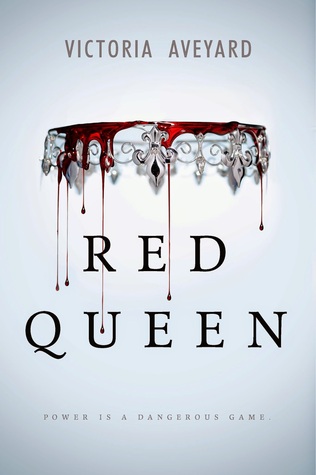 Release date:
February 10, 2015
Author info:
Website
|
Twitter
Publisher:
HarperTeen
Pages:
383
Format:
Egalley
Source:
Published provided for review through Edelweiss
Buy the book:
Barnes & Noble
|
Amazon
|
The Book Depository
Graceling meets The Selection in debut novelist Victoria Aveyard's sweeping tale of seventeen-year-old Mare, a common girl whose once-latent magical power draws her into the dangerous intrigue of the king's palace. Will her power save her or condemn her?

Mare Barrow's world is divided by blood--those with common, Red blood serve the Silver- blooded elite, who are gifted with superhuman abilities. Mare is a Red, scraping by as a thief in a poor, rural village, until a twist of fate throws her in front of the Silver court. Before the king, princes, and all the nobles, she discovers she has an ability of her own.

To cover up this impossibility, the king forces her to play the role of a lost Silver princess and betroths her to one of his own sons. As Mare is drawn further into the Silver world, she risks everything and uses her new position to help the Scarlet Guard--a growing Red rebellion--even as her heart tugs her in an impossible direction. One wrong move can lead to her death, but in the dangerous game she plays, the only certainty is betrayal.
At this point, I'm sure most of us have an idea of what
Red Queen
is about and are aware of the excitement surrounding the book. So obviously, I started reading with much excitement. And while parts of the world are interesting and original, and I know I'll be reading the rest of the series, I can't say
Red Queen
was a truly outstanding read.
Maybe part of my problem in reading is that the genre is chock full. It's simply too hard to have a book that's dystopian in any way that doesn't, in some way, remind us of others. Nonetheless, Red Queen almost never excited me. My heart didn't race, my emotions never overwhelmed me. There are moments near the end when things finally get a bit unpredictable, and that's the best part of the book. When Red Queen isn't relying on tropes, it gets good. Otherwise, it's lackluster.
While
Red Queen
, as the first book in the series, is not the strongest, I can't say that doesn't mean the rest of the series won't be. (That's certainly happened for me before!
Throne of Glass
? Meh.
Crown of Midnight
and
Heir of Fire
? AMAZING.) I am far and away in the minority with my opinion, however. But, to me, as a introduction to the world and characters,
Red Queen
was interesting enough--we'll just have to see for the rest of the series.
About the author:
After growing up in small town Massachusetts, Victoria attended the University of Southern California in Los Angeles. She graduated with a BFA in Screenwriting, which is exactly the degree being sought after in a recession.

She tries her best to combine her love of history, explosions, and butt-kicking heroines in her writing. Her hobbies include the impossible task of predicting what happens next in A Song of Ice and Fire, road trips, and burning through Netflix.