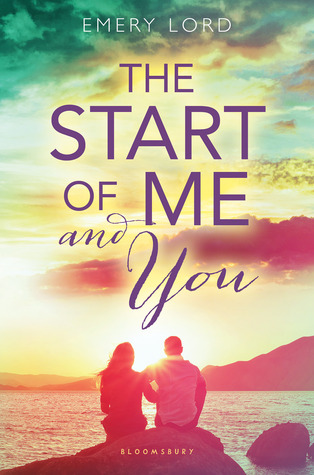 Title:
The Start of Me and You
Author:
Emery Lord
Release date:
March 31, 2015
Following her pitch-perfect debut Open Road Summer, Emery Lord pens another gorgeous story of best friends, new love, & second chances.

Brimming with heartfelt relationships and authentic high-school dynamics The Start of Me and You proves that it's never too late for second chances.

It's been a year since it happened—when Paige Hancock's first boyfriend died in an accident. After shutting out the world for two years, Paige is finally ready for a second chance at high school . . . and she has a plan. First: Get her old crush, Ryan Chase, to date her—the perfect way to convince everyone she's back to normal. Next: Join a club—simple, it's high school after all. But when Ryan's sweet, nerdy cousin, Max, moves to town and recruits Paige for the Quiz Bowl team (of all things!) her perfect plan is thrown for a serious loop. Will Paige be able to face her fears and finally open herself up to the life she was meant to live?


My teaser, from 12% in the egalley:
"My therapist says it's important for me to be social," Ryan joked, clapping Max on the back affectionately as they crossed paths mid-switch. The class laughed.

"That's why I'm putting you in the front, my little problem child," she said, tapping the desk where Ryan was now seated. "So we can have super-fun chats!"

"They're going to be about literature, aren't they?" asked Ryan.

"Yes, yes they are." Ms. Pepper surveyed the new seating arrangement. "I like it. It stays. Now, back to Rosencrantz and Guildenstern."
I loooved
Open Road Summer
, so I did a happy dance when Bloomsbury approved me to read this one early! I cannot wait for more from Emery Lord. :D :D
I'll be visiting around and visiting back, so leave me links to your teasers! :) Happy Tuesday!