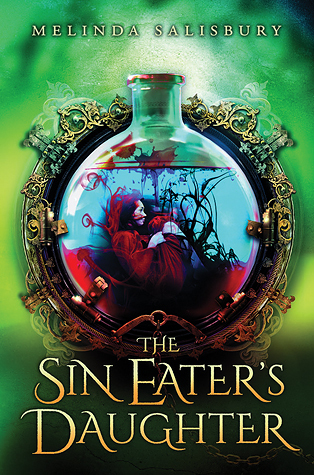 Release date:
February 24, 2015
Author info:
Website
|
Twitter
Publisher:
Scholastic Press
Pages:
320
Format:
Egalley
Source:
Publisher provided for review through Edelweiss
Buy the book:
Barnes & Noble
|
Amazon
|
The Book Depository
Seventeen-year-old Twylla lives in the castle. But although she's engaged to the prince, Twylla isn't exactly a member of the court.

She's the executioner.

As the Goddess embodied, Twylla instantly kills anyone she touches. Each month she's taken to the prison and forced to lay her hands on those accused of treason. No one will ever love a girl with murder in her veins. Even the prince, whose royal blood supposedly makes him immune to Twylla's fatal touch, avoids her company.

But then a new guard arrives, a boy whose easy smile belies his deadly swordsmanship. And unlike the others, he's able to look past Twylla's executioner robes and see the girl, not the Goddess. Yet Twylla's been promised to the prince, and knows what happens to people who cross the queen.

However, a treasonous secret is the least of Twylla's problems. The queen has a plan to destroy her enemies, a plan that requires a stomach-churning, unthinkable sacrifice. Will Twylla do what it takes to protect her kingdom? Or will she abandon her duty in favor of a doomed love?
Sigh. I so wanted to love
The Sin Eater's Daugher
. I've been excited about it for months, reading rave reviews and drooling at the cover. But, in this case, my wish did not come true.
There are really quite a few things that grated on my nerves the whole way through, the biggest being that
nothing happens
for a huge portion of the book. And I mean nothing. Twylla sits in her room (she's stuck there because she only has one guard, as one has fallen ill and no one wants to guard the girl who could kill them with one touch) and passes the time praying, sewing, and talking to Leif. Pages and pages of what I figure is supposed to be their relationship developing, but... Not really. It's so boring. If there were substantial character development, I'd have been entertained--that's like crack to me, y'all--but there's not. Twylla wishes she could leave and tells herself she shouldn't like her guard so much. That's it.
I also found the queen, the villain, to be terribly cliched and boring. I love the idea that the royal family is inbred because of their desire for blood purity--so the queen is crazy, obviously. Fine. Good. I just think, though, that it's done in an obvious way and without any nuance to it. Twylla is stupid ever to believe a word that comes out of her mouth, but she has--and does--even as the queen is obviously out to get her own way at any cost.
What saved the book, at least sort of, is the fascinating worldbuilding. From the first pages, I wanted to know everything about the world. From the Daunen embodied to sin eating to the story of the Sleeping Prince, I loved every bit. Give me a book filled with the fairy tales of the world and a handbook on what each food stands for in sin eating and I'd have been way more entertained than for most of this story.
Luckily, the plot does pick up (finally, around 60 percent) and makes the ending of
The Sin Eater's Daughter
go by very quickly and, largely, interestingly, though the twists are rather obvious. It helped, but it couldn't save the book for me. In the end, I was pretty disappointed by
The Sin Eater's Daughter
, and it kind of broke my heart.
About the author:
Melinda Salisbury lives by the sea, somewhere in the south of England. As a child she genuinely thought Roald Dahl's Matilda was her biography, in part helped by her grandfather often mistakenly calling her Matilda, and the local library having a pretty cavalier attitude to the books she borrowed. Sadly she never manifested telekinetic powers. She likes to travel, and have adventures. She also likes medieval castles, non-medieval aquariums, Richard III, and all things Scandinavian The Sin Eater's Daughter is her first novel.