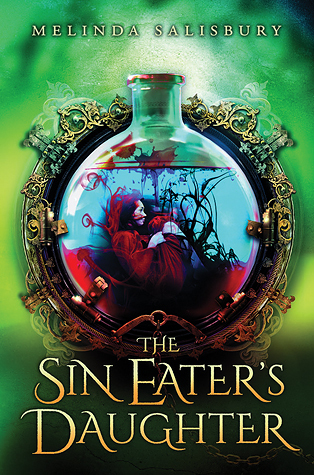 Title:
The Sin-Eater's Daughter
Author:
Melinda Salisbury
Release date:
February 24, 2015
Seventeen-year-old Twylla lives in the castle. But although she's engaged to the prince, Twylla isn't exactly a member of the court.

She's the executioner.

As the Goddess embodied, Twylla instantly kills anyone she touches. Each month she's taken to the prison and forced to lay her hands on those accused of treason. No one will ever love a girl with murder in her veins. Even the prince, whose royal blood supposedly makes him immune to Twylla's fatal touch, avoids her company.

But then a new guard arrives, a boy whose easy smile belies his deadly swordsmanship. And unlike the others, he's able to look past Twylla's executioner robes and see the girl, not the Goddess. Yet Twylla's been promised to the prince, and knows what happens to people who cross the queen.

However, a treasonous secret is the least of Twylla's problems. The queen has a plan to destroy her enemies, a plan that requires a stomach-churning, unthinkable sacrifice. Will Twylla do what it takes to protect her kingdom? Or will she abandon her duty in favor of a doomed love?


My teaser, from 15% in the egalley:
Later, each gardener lost the index finger from their dominant hand for allowing dandelions to grow in the kitchen gardens unchecked and in such high numbers; the cook lost both her little toes for suggesting the queen might eat the leaves and roots of weeds in her salad, or drink them in tea. The queen had wanted her thumbs, but that would have left the cook unable to do her job. The queen called it mercy. Again.
I have been absurdly excited for this one for months and months, and I'm finally reading it! So far I'm not wowed, but it's definitely intriguing enough to keep me reading. We'll see! :)
I'll be visiting around and visiting back, so leave me links to your teasers! :) Happy Tuesday!