Hey hey hey! I'm so excited to be hosting a stop on the
Stalking Jack the Ripper
blog tour, hosted by the Knights of Whitechapel, the book's street team! As I've
just
finished reading and am completely pumped, I'll be sharing my review and a playlist that I think only makes your reading experience better. :)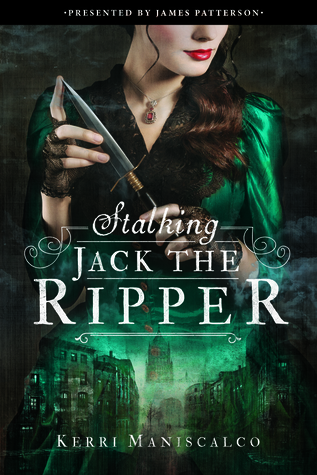 Release date:
September 20, 2016
Author info:
Website
|
Twitter
|
Facebook
|
Instagram
|
Tumblr
|
Pinterest
Publisher:
Jimmy Patterson
Pages:
336
Format:
Egalley
Source:
Publisher provided for review
Buy the book:
Barnes & Noble
|
Amazon
|
The Book Depository
|
Indiebound
Seventeen-year-old Audrey Rose Wadsworth was born a lord's daughter, with a life of wealth and privilege stretched out before her. But between the social teas and silk dress fittings, she leads a forbidden secret life.

Against her stern father's wishes and society's expectations, Audrey often slips away to her uncle's laboratory to study the gruesome practice of forensic medicine. When her work on a string of savagely killed corpses drags Audrey into the investigation of a serial murderer, her search for answers brings her close to her own sheltered world.

The story's shocking twists and turns, augmented with real, sinister period photos, will make this dazzling debut from author Kerri Maniscalco impossible to forget.
I have an unhealthy fascination with Jack the Ripper... It might be more than unhealthy, really--but I've written a long research paper on him and gobble up info kind of constantly. (To the point where I have dreamed about it more than once. Freaky dreams, y'all.) Needless to say, anytime a book is centered around Jack the Ripper, I'm there, with bells on. Of course, a deep interest in Jack the Ripper isn't going to make a book. And excitingly,
Stalking Jack the Ripper
may have gotten me to read with its subject, but it won me over with its dark tone and fierce heroine.
As I said, THE TONE. I've seen mentions of Gothics in a lot of talk around SJTR, and that's a good comparison. SJTR has that wonderfully (at least in my book!) ominous tone, where you know something bad is coming without fully knowing what it is, you're constantly switching opinions as to who the bad guy is, and there's even a little bit of the supernatural coming into play. There's just the right balance of darkness, with bits and pieces of humor and lightness from Audrey Rose's interactions with Thomas, making for a really engrossing read.
And Audrey Rose! I just love her! She's feisty and brave, and both her loyalty and her drive are so admirable. What's so great is that she's constantly challenging conventions of her time--but Maniscalco never makes her overtly so, to the point that she'd be too much for the people of her time. That's not to say her thoughts aren't
definitely
too much for her time, but she's only looking for a bit of freedom at the moment, and it reads a lot more authentically than a lot of other books.
I have a feeling I could talk about this book for altogether too long, but I'll calm myself down. (I could literally dedicate paragraphs to how much and what I love about Thomas, so be glad you're being spared!)
If you love a gritty, historical mystery that's scary without being too much so,
Stalking Jack the Ripper
is a sure bet for you.
About the author:
Kerri Maniscalco grew up in a semi-haunted house outside NYC where her fascination with gothic settings began. In her spare time she reads everything she can get her hands on, cooks all kinds of food with her family and friends, and drinks entirely too much tea while discussing life's finer points with her cats.

Her debut, STALKING JACK THE RIPPER (JIMMY Patterson Books/Little, Brown September 20, 2016), is a Young Adult Gothic horror inspired by the Ripper murders. It's about a Victorian-era lord's daughter who defies society expectations by secretly apprenticing as a forensics examiner, and soon finds herself embroiled in the investigation of a serial killer who is stalking London's East End.
And here's my playlist! I'm always trying, when I make these, to accentuate the tone of the book or the overall themes. In this case, the tone did most of the work itself, but this is music I thought fit that foreboding, creepy kind of feel. (Plus it's just awesome music.)