Stacking the Shelves is a weekly meme hosted by Tynga's Reviews where we get to share the books we've bought, been gifted, or received for review!
How was everybody's week? Mine's been not bad. :) Hey, remember when I said comments were a priority this past week? Well... Didn't happen. I swear, this week, though. I've just been working so much that it's hard to have the impetus to do the work, but this week I'm working mostly mornings, so I'll have nights to do blogging. :)
For review: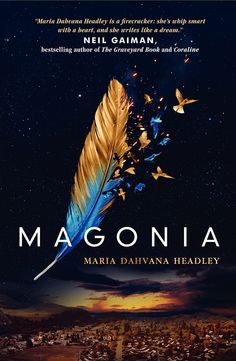 Magonia
by Maria Dahvana Headley
A recap of the week here on Paper Cuts:
Monday -
Trailer Reveal: Hellhole by Gina Damico
Tuesday -
Teaser Tuesday: Blue Lily, Lily Blue by Maggie Stiefvater
Wednesday -
Waiting on Wednesday: A Court of Thorns and Roses by Sarah J. Maas
Friday -
Review: Cinder & Ella by Kelly Oram
Books I read this week:
Awkward... I didn't finish anything!
I'm currently reading:
Blue Lily, Lily Blue (The Raven Cycle #3)
by Maggie Stiefvater
So that's been my week! Who has self control? Why, that would be me! Also, no time, but I'd rather say self control. :) Have a lovely Sunday and a fabulous week!