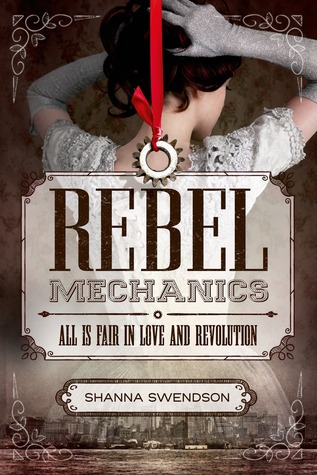 Release date:
July 14, 2015
Author info:
Website
|
Twitter
|
Facebook
Publisher:
Farrar, Straus and Giroux
Pages:
310
Format:
ARC
Source:
Publisher provided for review
Buy the book:
Barnes & Noble
|
Amazon
|
The Book Depository
A sixteen-year-old governess becomes a spy in this alternative U.S. history where the British control with magic and the colonists rebel by inventing.

It's 1888, and sixteen-year-old Verity Newton lands a job in New York as a governess to a wealthy leading family—but she quickly learns that the family has big secrets. Magisters have always ruled the colonies, but now an underground society of mechanics and engineers are developing non-magical sources of power via steam engines that they hope will help them gain freedom from British rule. The family Verity works for is magister—but it seems like the children's young guardian uncle is sympathetic to the rebel cause. As Verity falls for a charming rebel inventor and agrees to become a spy, she also becomes more and more enmeshed in the magister family's life. She soon realizes she's uniquely positioned to advance the cause—but to do so, she'll have to reveal her own dangerous secret.
We all have those books that, despite any faults, we love 'em. And
Rebel Mechanics
is one for me. There were certainly bits that I
could
find problematic, but I didn't care. It's too enjoyable an experience.
From the beginning, I loved the tone of
Rebel Mechanics
. There's a bit of levity thrown in with the chapter titles, and while the stakes of the story aren't nothing, the book is just fun. How couldn't a world where science is pitted against magic, where the American Revolution didn't happen, not be intriguing?
Verity is thrown into a world so unlike the one she's used to that she's fully shocked, and watching everything through her eyes is easy. Her awe is our awe. Verity is only frustrating because she becomes so easily enamored of Alec and her focus slides away from the action and more towards him. But I liked her fire and her understanding that no side of an argument is fully correct or incorrect.
And as much as I enjoyed
Rebel Mechanics
, I can only imagine I'll like its sequel better. There's so much good groundwork for a revolution, for romance, for friendship, and for Verity to become a truly wonderful heroine.
Rebel Mechanics
is a fun ride from start to finish (and even starts with a fun ride!) and just the kind of book I love.
About the author:
Shanna Swendson is the author of the Enchanted, Inc. and Fairy Tale series of humorous contemporary fantasy novels. She's also contributed essays to a number of books on pop-culture topics, including Everything I Needed to Know About Being a Girl, I Learned from Judy Blume, Serenity Found, Perfectly Plum, and So Say We All. When she's not writing, she's usually discussing books and television on the Internet, singing in or directing choirs, taking ballet classes, or attempting to learn Italian cooking. She lives in Irving, Texas, with several hardy houseplants and a lot of books.