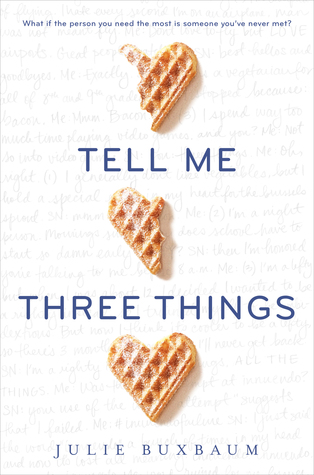 Release date:
April 5, 2016
Author info:
Website
|
Twitter
Publisher:
Delacorte Press
Pages:
336
Format:
ARC
Source:
Publisher provided for review
Buy the book:
Barnes & Noble
|
Amazon
|
The Book Depository
What if the person you need the most is someone you've never met?
Everything about Jessie is wrong. At least, that's what it feels like during her first week of junior year at her new ultra-intimidating prep school in Los Angeles. Just when she's thinking about hightailing it back to Chicago, she gets an email from a person calling themselves Somebody/Nobody (SN for short), offering to help her navigate the wilds of Wood Valley High School. Is it an elaborate hoax? Or can she rely on SN for some much-needed help?

It's been barely two years since her mother's death, and because her father eloped with a woman he met online, Jessie has been forced to move across the country to live with her stepmonster and her pretentious teenage son.

In a leap of faith—or an act of complete desperation—Jessie begins to rely on SN, and SN quickly becomes her lifeline and closest ally. Jessie can't help wanting to meet SN in person. But are some mysteries better left unsolved?
I think it's no secret by now that I love a sweet contemporary romance. While they're not the majority of what I read, there's just something about a book that you can fly through and finish with happy, warm feelings. Yet, some of these books are... forgettable. They leave you happy for a while, sure, but they don't do anything for you in the long run.
Tell Me Three Things
, however, is not one of those books, because it's filled with nuanced characters and a couple you can't help but root for--even though you're not fully sure who the second half of the couple is!
Jessie feels like a pitch-perfect teenager. Yes, she's a lot of fun to follow, because she's smart and very true to herself, but she's also moody and rather selfish at times--but weren't we all? I love that she was able to continue to see who she was throughout all of the adversity and sought out friendships and acceptance in the kinds of people who saw how great she was. And yet, behaves immaturely when dealing with her new family situation and fails to see her best friend's concerns. It's these failings--and her ability to learn from them--that make Jessie such a winning character.
The core of the book, the mystery of SN, is one of those things that you think you know. Then you think maybe not? Then you're pretty sure. Then you think you're completely wrong. Then you just start to hope. And hope some more. But, honestly, at the end of it, you know that however it ends, it's going to be good, because how Jessie and SN interact is so genuine and sweet.
Y'all. You'll finish
Tell Me Three Things
with a stupid happy grin. You'll feel for Jessie's pain and celebrate her happy ending with her--and it's certainly an unforgettable happy ending, promise!
Can't wait to try
Tell Me Three Things
? You should definitely
check out the first chapter
--it's what sold me!
About the author:
Julie Buxbaum is a graduate of the University of Pennsylvania and Harvard Law School. The author of The Opposite of Love, she currently lives in London.