It's time for some more mini reviews! Did y'all know I haven't done any since 2014? Probably not! I didn't until I looked, but I'm not exactly surprised. I wouldn't be surprised if they became more regular, as I like to cover as much of what I read as possible, but I've got piles of romance novels that I didn't get for review, so I'm not under much obligation with them. I don't know that I'd have much to talk about if I didn't cover them, though! I can't get enough.
Title:
Secrets of a Summer Night
Author:
Lisa Kleypas
Publisher:
Avon
Source:
Purchased
Buy the book:
Barnes & Noble
|
Amazon
|
The Book Depository
Annabelle Peyton, determined to save her family from disaster, decides to use her beauty and wit to tempt a suitable nobleman into making an offer of marriage. But Annabelle's most intriguing—and persistent—admirer, wealthy, powerful Simon Hunt, has made it clear that while he will introduce her to irresistible pleasure he will not offer marriage. Annabelle is determined to resist his unthinkable proposition...but it is impossible in the face of such skillful seduction.

Her friends, looking to help, conspire to entice a more suitable gentleman to offer for Annabelle, for only then will she be safe from Simon—and her own longings. But on one summer night, Annabelle succumbs to Simon's passionate embrace and tempting kisses...and she discovers that love is the most dangerous game of all.
I knew Lisa Kleypas was one of the queens of romance, so I'd be remiss if I didn't give her books a try! And unsprisingly, I quite enjoyed the first of her Wallflowers series. In this case, what I loved most was the fun friendship among the girls. I love that they're not in competition, and they're rooting so hard for one another. It also never hurt that Simon was totally swoon-worthy in his broody, almost ill-bred way. I liked that our hero wasn't a lord and really didn't aspire to be one, either. These things made
Secrets of a Summer Night
refreshing and definitely more memorable than a lot of other romances.
Of course, part of the fun of the beginning of a series is slowly getting to know the characters and anticipating their own installments. (I've already read the second and loved it too!)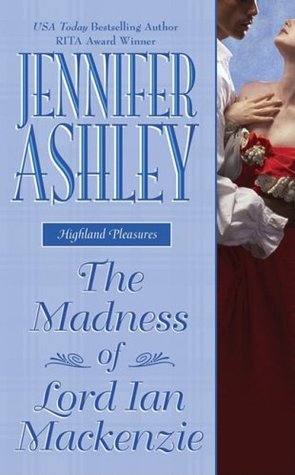 Title:
The Madness of Lord Ian Mackenzie
Author:
Jennifer Ashley
Publisher:
Berkley
Source:
Purchased
Buy the book:
Barnes & Noble
|
Amazon
|
The Book Depository
The year is 1881. Meet the Mackenzie family--rich, powerful, dangerous, eccentric. A lady couldn't be seen with them without ruin. Rumors surround them--of tragic violence, of their mistresses, of their dark appetites, of scandals that set England and Scotland abuzz.

The youngest brother, Ian, known as the Mad Mackenzie, spent most of his young life in an asylum, and everyone agrees he is decidedly odd. He's also hard and handsome and has a penchant for Ming pottery and beautiful women.

Beth Ackerley, widow, has recently come into a fortune. She has decided that she wants no more drama in her life. She was raised in drama--an alcoholic father who drove them into the workhouse, a frail mother she had to nurse until her death, a fussy old lady she became constant companion to. No, she wants to take her money and find peace, to travel, to learn art, to sit back and fondly remember her brief but happy marriage to her late husband.

And then Ian Mackenzie decides he wants her.
I was totally into the premise of this, having seen Sarah MacLean recommend it on her Twitter. And it was definitely an interesting idea, because Ian has a form of autism, making him seem mentally unstable in their time, and it was a unconventional yet touching addition to the character's relationship. At the same time, however, I just never felt the story was as compelling as I wanted it to be. I loved Beth and her compassion, but I think she's all I loved about the book?
I thought all the drama at the end was actually melodramatic, even more so than most historical romance novels, which all have a dash of melodrama--and that's all probably what made this one less than stellar for me, but not awful at all.
Title:
Falling Into Bed With a Duke
Author:
Lorraine Heath
Publisher:
Avon
Source:
Purchased
Buy the book:
Barnes & Noble
|
Amazon
|
The Book Depository
After six unsuccessful Seasons, Miss Minerva Dodger chooses spinsterhood over fortune-hungry suitors. But thanks to the Nightingale Club, she can at least enjoy one night of pleasure. At that notorious establishment, ladies don masks before choosing a lover. The sinfully handsome Duke of Ashebury is more than willing to satisfy the secretive lady's desires—and draws Minerva into an exquisite, increasingly intimate affair.

A man of remarkable talents, Ashe soon deduces that his bedmate is the unconventional Miss Dodger. Intrigued by her wit and daring, he sets out to woo her in earnest. Yet Minerva refuses to trust him. How to court a woman he has already thoroughly seduced? And how to prove that the passion unleashed in darkness is only the beginning of a lifetime's pleasure?
Falling Into Bed With a Duke
was such fun! The title was fun to tell to my coworkers (hehe), but I loved nothing more than Minerva being the kind of girl who takes big decisions into her own hands. She wants something, so she goes after it. Nothing, of course, works out to her plan, but that proactiveness brings her life into something she had no idea could happen. I loved seeing Ashe really fall in love with Minerva, I loved Minerva's relationship with her father--so different and so sweet--and I loved Ashe's friendships. There was a lot to love.
If you can't tell, I'll be reading more from Lorraine Heath, and especially be following the rest of her Hellions of Havisham series!