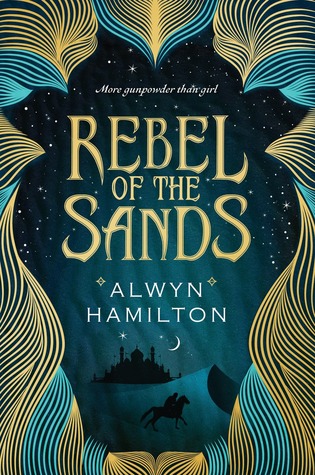 Release date:
March 8, 2016
Author info:
Website
|
Twitter
Publisher:
Viking Books for Young Readers
Pages:
314
Format:
ARC
Source:
Traded
Buy the book:
Barnes & Noble
|
Amazon
|
The Book Depository
Mortals rule the desert nation of Miraji, but mythical beasts still roam the wild and remote areas, and rumor has it that somewhere, djinn still perform their magic. For humans, it's an unforgiving place, especially if you're poor, orphaned, or female.

Amani Al'Hiza is all three. She's a gifted gunslinger with perfect aim, but she can't shoot her way out of Dustwalk, the back-country town where she's destined to wind up wed or dead.

Then she meets Jin, a rakish foreigner, in a shooting contest, and sees him as the perfect escape route. But though she's spent years dreaming of leaving Dustwalk, she never imagined she'd gallop away on mythical horse—or that it would take a foreign fugitive to show her the heart of the desert she thought she knew.

Rebel of the Sands reveals what happens when a dream deferred explodes—in the fires of rebellion, of romantic passion, and the all-consuming inferno of a girl finally, at long last, embracing her power.
Y'all are with me in thinking this book sounds amazing, right? And that's kind of a scary thing to go into, if I'm being honest, because I so desperately wanted to love this. Reviews from friends don't help, because raves only add pressure. So, I had a copy of this for months before I picked it up, but OH MY LORD I SHOULDN'T HAVE WORRIED. (Was that tone misleading enough? I try!)
Rebel of the Sands
is, seriously, everything I wanted it to be--and probably more.
From the first pages, I loved Amani. She's been dealt quite the hand in life, but she doesn't whine about it. Instead, she works as hard as she possibly can to make it better. She uses the talents she has to work her way out. At the same time, she's not selfish or so one-track minded that she forgets to see how she can help those around her. She's willing to risk herself for the greater good.
And the world! In fantasy, we all hate info dumps, yet I was so desperate to know about the world I almost wish there were a few of them. To be clear, there weren't, and the world is built gradually, carefully, and completely organically. The fusion of a western and the world of
One Thousand and One Nights
is one of those ideas that could fall flat so easily, but it never feels forced or unnatural.
Honestly, y'all, I've come to know myself enough to know that if a romance just isn't working, I'm probably not going to like the book. I'm superficial like that, but it's the truth. Of course, our love interest, Jin, is as wonderful as the rest of the book. The romance isn't too heavy in this installment (but I'll totally admit I'm hoping for a lot more to come! I'm superficial, like I said.), but we definitely get to know Jin. He's a stranger at the beginning, yet from his first moments, we see he's honorable and completely different from most of the people Amani knows in Dustwalk. As we see more, he proves himself to be completely charming and funny--and I was totally won over. We know he's got secrets, and they're big, but they don't ever really detract from him.
So... This isn't an ambivalent review, at all, eh? It's still early, but I'm positive
Rebel of the Sands
will be one of my top reads of the year. Alwyn Hamilton has nailed everything that makes for a great fantasy, and made a huge fan out of me. And this is her DEBUT. We're in for a fantastic read with this series.
About the author:
Alwyn Hamilton was born in Toronto and spent her childhood bouncing between Europe and Canada until her parents settled in France. She grew up in a small town there, which might have compelled her to burst randomly into the opening song from Beauty and the Beast were it not for her total tone-deafness. She instead attempted to read and write her way to new places and developed a weakness for fantasy and cross-dressing heroines. She left France for Cambridge University to study History of Art at King's College, and then to London where she became indentured to an auction house. She has a bad habit of acquiring more hardcovers than is smart for someone who moves house quite so often.