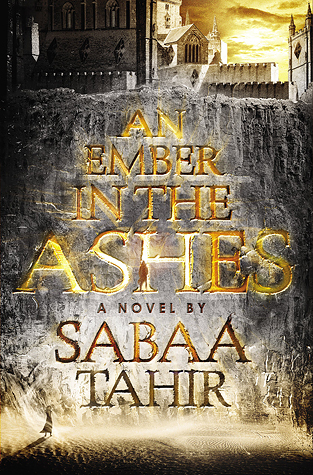 Release date:
April 28, 2015
Author info:
Website
|
Twitter
|
Instagram
Publisher:
Razorbill
Pages:
446
Format:
ARC
Source:
Traded
Buy the book:
Barnes & Noble
|
Amazon
|
The Book Depository
Laia is a slave.

Elias is a soldier.

Neither is free.

Under the Martial Empire, defiance is met with death. Those who do not vow their blood and bodies to the Emperor risk the execution of their loved ones and the destruction of all they hold dear.

It is in this brutal world, inspired by ancient Rome, that Laia lives with her grandparents and older brother. The family ekes out an existence in the Empire's impoverished backstreets. They do not challenge the Empire. They've seen what happens to those who do.

But when Laia's brother is arrested for treason, Laia is forced to make a decision. In exchange for help from rebels who promise to rescue her brother, she will risk her life to spy for them from within the Empire's greatest military academy.

There, Laia meets Elias, the school's finest soldier—and secretly, its most unwilling. Elias wants only to be free of the tyranny he's being trained to enforce. He and Laia will soon realize that their destinies are intertwined—and that their choices will change the fate of the Empire itself.
Well dang. I keep doing this to myself! Somehow when I end up not reading books for a while after their release, I get this idea that I might not like them... And then I read them. And I like them.
An Ember in the Ashes
is the perfect example of this! I finally got around to picking it up, and from the first few pages, I was hooked.
What I appreciated most is the real sense of danger and violence in the world of
An Ember in the Ashes
. So many times you read these books and there's never a real sense that anything too terrible can go wrong, that your favorite characters could die or those threats of brutality will come true. Not the case here; time and time again, our characters are subjected to the exact consequences that they're threatened with. But what's also wonderful is how such a brutal world can provoke such caring and loyalty. There's darkness, sure, but it's never hopeless.
I also liked that Laia really forces herself to take on the rebels and the role she joins them in. She's never actually eager to do all that she does. It's that loyalty and love of her brother that make her choices inevitable, no matter how she dislikes them. Laia has courage, but she has to
force
herself to find it--and that's refreshing.
Yes, I had problems and questions. That romance is...complicated, to say the least. I'm not normally too bothered by love triangles and the like, but even I felt this one was too much. Hopefully it's firmly resolved quickly. And despite a lot of good worldbuilding, I think there are definitely questions that could have been answered in that aspect that weren't, and little bits and pieces that were introduced and kind of dropped along the way.
Despite any problems, though, I was wholly absorbed by
An Ember in the Ashes
from the beginning--and I actually got mad when I had to put it down to do real-life things (like work! How dare that get in the way of my reading?). I'm definitely joining the ranks of fans waiting excitedly for
A Torch Against the Night
!
About the author:
Sabaa Tahir grew up in California's Mojave Desert at her family's 18-room motel. There, she spent her time devouring fantasy novels, raiding her brother's comic book stash and playing guitar badly. She began writing An Ember in the Ashes while working nights as a newspaper editor. She likes thunderous indie rock, garish socks and all things nerd. Sabaa currently lives in the San Francisco Bay Area with her family.