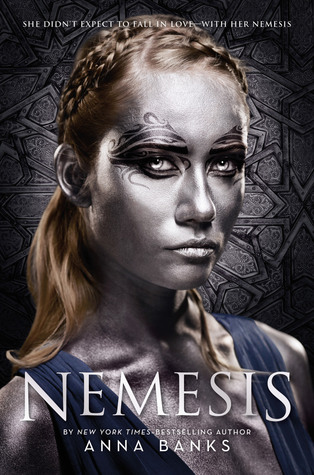 Release date:
October 4, 2016
Author info:
Website
|
Twitter
|
Facebook
Publisher:
Feiwel & Friends
Pages:
368
Format:
ARC
Source:
Publisher provided for review
Buy the book:
Barnes & Noble
|
Amazon
|
The Book Depository
The princess didn't expect to fall in love--with her nemesis.

Princess Sepora of Serubel is the last Forger in all the five kingdoms. The spectorium she creates provides energy for all, but now her father has found a way to weaponize it, and his intentions to incite war force her to flee from his grasp. She escapes across enemy lines into the kingdom of Theoria, but her plans to hide are thwarted when she is captured and placed in the young king's servitude.

Tarik has just taken over rulership of Theoria, and must now face a new plague sweeping through his kingdom and killing his citizens. The last thing he needs is a troublesome servant vying for his attention. But mistress Sepora will not be ignored. When the two finally meet face-to-face, they form an unlikely bond that complicates life in ways neither of them could have imagined.

Sepora's gift could save Tarik's kingdom from the Quiet Plague. But should she trust her growing feelings for her nemesis, or should she hide her gifts at all costs?
Up to this point, I readily admit I've not had the best experience reading Anna Bank's books. I did
not
mesh with her debut series, the Syrena Legacy, but I didn't have strong feelings (love or hate) about her contemporary
Joyride
. But, I have found a book I like! It's likely I like
Nemesis
far and away the most because the genre is my favorite, but I still like it and I'm excited about it. (I knew persistence would pay off!)
Now, a big part of liking
Nemesis
comes from liking Sepora. That's not to say I agreed with everything she did--because, no--but I liked that she's so strong in her beliefs. The book starts and she's leaving running away from her homeland, fully committed to the idea of living as a baseborn in a foreign country, simply because her father wants to use her and her ability to win a war. Things don't go according to plan, but she sticks to her guns. She's persistent in getting what she wants, and that can rub the wrong way, and her decisions aren't always from the clearest of minds--but she's admirable in why she's making them. I'm always going to like a character who knows who they are.
Anna Banks has created an interesting world in
Nemesis
, and hopefully much more of it is explored in its sequel. I felt, however, that parts of it were lazy, especially in naming. Why all five countries had to be breakoffs of Serubel--therefore without much of their own history--is beyond me. I can hope this will play into the story later and I can eat my words. Reading also felt
long
, for some reason. It's not that long of a book, and I was interested in what was going on, but it took me a lot longer to get through than normal.
My biggest complaint, however, is that Tarik's point of view was told in third person present. This is the most awkward way to write a character, in my opinion, and it was never something I could forget while I was reading. It made me hate to read Tarik's chapters, even as I wanted to know what was going on. The other problems I had pale in comparison to this one.
Even so, I enjoyed reading
Nemesis
, and am more than excited to find a book from Anna Banks I can really say I liked. There's a really cool world in place, and I'm ready to find out what's going to happen next!
About the author:
Anna Banks grew up in a small town called Niceville (yes, really). She now lives in Crestview, Florida, with her husband and their daughter. She is the author of The Syrena Legacy series, Joyride, and Nemesis.