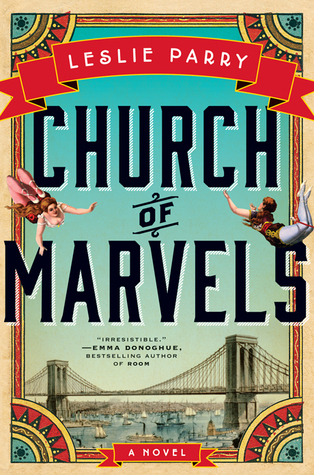 Release date:
May 5, 2015
Author info:
Website
|
Twitter
|
Tumblr
Publisher:
Ecco
Pages:
320
Format:
Hardcover
Source:
Publisher provided for review
Buy the book:
Barnes & Noble
|
Amazon
|
The Book Depository
A ravishing first novel, set in vibrant, tumultuous turn-of-the-century New York City, where the lives of four outsiders become entwined, bringing irrevocable change to them all.

New York, 1895. Sylvan Threadgill, a night soiler cleaning out the privies behind the tenement houses, finds an abandoned newborn baby in the muck. An orphan himself, Sylvan rescues the child, determined to find where she belongs.

Odile Church and her beautiful sister, Belle, were raised amid the applause and magical pageantry of The Church of Marvels, their mother's spectacular Coney Island sideshow. But the Church has burnt to the ground, their mother dead in its ashes. Now Belle, the family's star, has vanished into the bowels of Manhattan, leaving Odile alone and desperate to find her.

A young woman named Alphie awakens to find herself trapped across the river in Blackwell's Lunatic Asylum—sure that her imprisonment is a ruse by her husband's vile, overbearing mother. On the ward she meets another young woman of ethereal beauty who does not speak, a girl with an extraordinary talent that might save them both.

As these strangers' lives become increasingly connected, their stories and secrets unfold. Moving from the Coney Island seashore to the tenement-studded streets of the Lower East Side, a spectacular human circus to a brutal, terrifying asylum, Church of Marvels takes readers back to turn-of-the-century New York—a city of hardship and dreams, love and loneliness, hope and danger. In magnetic, luminous prose, Leslie Parry offers a richly atmospheric vision of the past in a narrative of astonishing beauty, full of wondrous enchantments a marvelous debut that will leave readers breathless.
Church of Marvels
is one of those books that sells itself easily. What reader wouldn't be interested after reading a synopsis that teases circuses, asylums, turn-of-the-century New York, and a twisting story? Though I can't say
Church of Marvels
delivered what I expected to read, I can certainly say it was constantly surprising, nuanced, beautifully written, and complicated in the best way.
Told in three narratives, the stories of Sylvan, Odile, and Alphie seem desperately far apart and completely unconnected. Slowly, and completely expertly, they come together to form one large story. What's so wonderful about this is that moments from the others' narration come into play in another's, making each vignette important, even if you don't know it yet. You're sure to miss little clues along the way, but it's so very delicately done.
While there are certainly reveals that I saw coming, the best and most shocking ones were completely unexpected. And I mean completely. As soon as you know the secret, however, little moments come back into play, and you realize there have been hints, but you didn't know they were hints. The foreshadowing feels like a master class in a lot of ways.
And don't come into
Church of Marvels
expecting perhaps your usual book involving a circus, the kind that hints at magical realism or a sense of the fantastic. None of that here. What is here is the nitty gritty of the hard-knock world. Parry's New York is dirty and her characters aren't all nice. The story's whole central drama is centered around secrets and the people's reactions to finding out they've been lied to. It's violent and dark, but it's also the stage for unconditional, all-powerful love and general human goodness.
There's so much I want to talk about in
Church of Marvels
, but too many twists would be completely ruined with too much foreknowledge. Admittedly, there's a lot going on, which could be a detractor for some, but certainly wasn't for me. I was absorbed by the lovely writing from the first pages and quickly entranced by the mystery until the final page.
About the author:
Leslie Parry is a graduate of the Iowa Writers' Workshop. Her work has received an O. Henry Award, a National Magazine Award nomination and an honorable mention in The Best American Short Stories 2013. Raised in Pasadena, California, she now lives in Chicago.