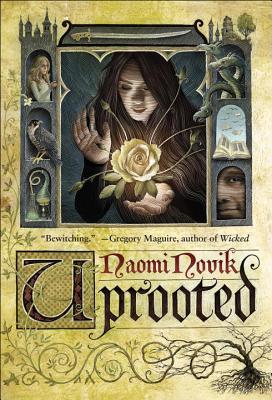 Title:
Uprooted
Author:
Naomi Novik
Release date:
May 19, 2015
Naomi Novik, author of the bestselling and critically acclaimed Temeraire novels, introduces a bold new world rooted in folk stories and legends, as elemental as a Grimm fairy tale.

"Our Dragon doesn't eat the girls he takes, no matter what stories they tell outside our valley. We hear them sometimes, from travelers passing through. They talk as though we were doing human sacrifice, and he were a real dragon. Of course that's not true: he may be a wizard and immortal, but he's still a man, and our fathers would band together and kill him if he wanted to eat one of us every ten years. He protects us against the Wood, and we're grateful, but not that grateful."

Agnieszka loves her valley home, her quiet village, the forests and the bright shining river. But the corrupted Wood stands on the border, full of malevolent power, and its shadow lies over her life.

Her people rely on the cold, driven wizard known only as the Dragon to keep its powers at bay. But he demands a terrible price for his help: one young woman handed over to serve him for ten years, a fate almost as terrible as falling to the Wood.

The next choosing is fast approaching, and Agnieszka is afraid. She knows—everyone knows—that the Dragon will take Kasia: beautiful, graceful, brave Kasia, all the things Agnieszka isn't, and her dearest friend in the world. And there is no way to save her.

But Agnieszka fears the wrong things. For when the Dragon comes, it is not Kasia he will choose.

My teaser, from 43% in the egalley:
On the wall between the chains, above Jerzy's head, the Falcon's spell opened a window, and we all saw for one moment a tall old heart-tree, twice the size of the one Kasia had been inside. Its limbs were thrashing wildly in a crackling blaze of fire.
I actually finished this last night, and while it's looong (reads a lot longer than it is, in my opinion), it was also pretty dang good. :)
I'll be visiting around and visiting back, so leave me links to your teasers! :) Happy Tuesday!