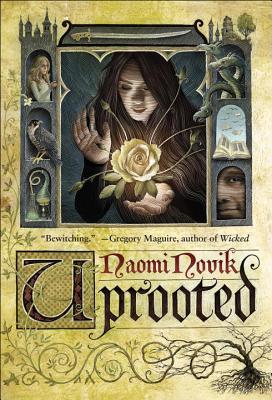 Release date:
May 19, 2015
Author info:
Website
|
Twitter
|
Facebook
Publisher:
Del Rey
Pages:
438
Format:
Egalley
Source:
Publisher provided for review through Netgalley
Buy the book:
Barnes & Noble
|
Amazon
|
The Book Depository
Naomi Novik, author of the bestselling and critically acclaimed Temeraire novels, introduces a bold new world rooted in folk stories and legends, as elemental as a Grimm fairy tale.

"Our Dragon doesn't eat the girls he takes, no matter what stories they tell outside our valley. We hear them sometimes, from travelers passing through. They talk as though we were doing human sacrifice, and he were a real dragon. Of course that's not true: he may be a wizard and immortal, but he's still a man, and our fathers would band together and kill him if he wanted to eat one of us every ten years. He protects us against the Wood, and we're grateful, but not that grateful."

Agnieszka loves her valley home, her quiet village, the forests and the bright shining river. But the corrupted Wood stands on the border, full of malevolent power, and its shadow lies over her life.

Her people rely on the cold, driven wizard known only as the Dragon to keep its powers at bay. But he demands a terrible price for his help: one young woman handed over to serve him for ten years, a fate almost as terrible as falling to the Wood.

The next choosing is fast approaching, and Agnieszka is afraid. She knows—everyone knows—that the Dragon will take Kasia: beautiful, graceful, brave Kasia, all the things Agnieszka isn't, and her dearest friend in the world. And there is no way to save her.

But Agnieszka fears the wrong things. For when the Dragon comes, it is not Kasia he will choose.
Just as I was so SO (
so
) hoping,
Uprooted
is awesome. Simply awesome. In so many ways, it reminded me of the books that made me fall in love with fantasy growing up. (Not kid's fantasy, at all. I wasn't reading for my age, just what caught my fancy.) Now, going into this, I really had no idea what would happen. I had kept away from reviews and only read the synopsis, so in the hopes that whoever is reading this won't be spoiled, I'm not going into details. It's more fun that way--and though I suspected most of what happened, it's still better if I don't just hand it to you.
Agnieska is the kind of protagonist you can't help but like, She's always dirty, always finding her way into a mess, even when she tries her hardest to stay out. And in everyone's eyes, she's unexceptional, especially compared to Kasia, her best friend, the girl who has always been slated to be taken by the Dragon when the time comes. But when Agnieska is instead chosen by the Dragon, her entire life takes a turn for the fantastic. And yet, even as she's brought into the larger and larger world outside of her village and she learns all that she does, she never loses her sense of where she comes from and her ability to look a mess.
As I said, this is the kind of fantasy I devoured when I was younger, It's intricate; layer after layer of complication and story is revealed as you read further. And it's the kind of book that once you finish, you feel like you've read a series. There are so many big moments, but they just keep getting bigger and bigger until you finally understand the breadth of the story and the Wood itself. And I loved it.
I could go into so many bits and pieces--Nieska and Kasia's friendship, political intrigue, THE WOOD, the romance, the writing--that were stand-outs, but it'd be the never-ending review. Nonetheless,
this
is the kind of book I want to sit on my shelf to revisit again and again, to pass on to friends, and to remind myself of what makes me love reading so much.
About the author:
An avid reader of fantasy literature since age six, when she first made her way through The Lord of the Rings, Naomi Novik is also a history buff with a particular interest in the Napoleonic era and a fondness for the work of Patrick O'Brian and Jane Austen. She studied English literature at Brown University, and did graduate work in computer science at Columbia University before leaving to participate in the design and development of the computer game Neverwinter Nights: Shadow of Undrentide. Over the course of a brief winter sojourn spent working on the game in Edmonton, Canada (accompanied by a truly alarming coat that now lives brooding in the depths of her closet), she realized she preferred writing to programming, and on returning to New York, decided to try her hand at novels.

Naomi lives in New York City with her husband and six computers. Her website is at naominovik.com.