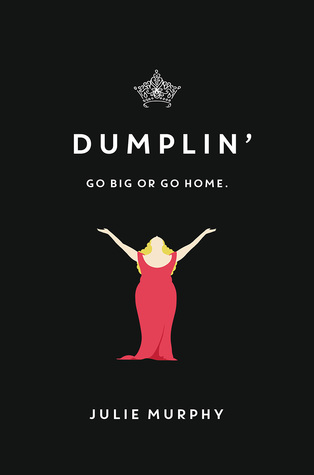 Release date:
September 15, 2015
Author info:
Website
|
Twitter
Publisher:
Balzer + Bray
Pages:
384
Format:
Egalley
Source:
Publisher provided for review through Edelweiss
Buy the book:
Barnes & Noble
|
Amazon
|
The Book Depository
Self-proclaimed fat girl Willowdean Dickson (dubbed "Dumplin'" by her former beauty queen mom) has always been at home in her own skin. Her thoughts on having the ultimate bikini body? Put a bikini on your body. With her all-American beauty best friend, Ellen, by her side, things have always worked . . . until Will takes a job at Harpy's, the local fast-food joint. There she meets Private School Bo, a hot former jock. Will isn't surprised to find herself attracted to Bo. But she is surprised when he seems to like her back.

Instead of finding new heights of self-assurance in her relationship with Bo, Will starts to doubt herself. So she sets out to take back her confidence by doing the most horrifying thing she can imagine: entering the Miss Clover City beauty pageant—along with several other unlikely candidates—to show the world that she deserves to be up there as much as any twiggy girl does. Along the way, she'll shock the hell out of Clover City—and maybe herself most of all.

With starry Texas nights, red candy suckers, Dolly Parton songs, and a wildly unforgettable heroine— Dumplin' is guaranteed to steal your heart.
I feel like it should come as no surprise that
Dumplin'
is delightful. Are you surprised? You shouldn't be.
Willowdean is such a wonderfully strong protagonist, yet she's real in that most of the time she knows there's nothing wrong with her size, but there are moment she forgets it. Straight up, she's too awesome. But she's not so awesome that she doesn't make mistakes, doesn't say the wrong thing, doesn't reach out to those she should read out to.
If you're not totally sold on Willlowdean, which is awfully silly of you, read
Dumplin'
for the friendships. Yes there's Willow and Ellen, her very best friend of years and years, but it's when the two are estranged that Willowdean branches out and makes some new friends--albeit reluctantly. These friendships are what shine, though. They pull Willow out of her comfort zone, and while the girls sometimes refer to Willow as an inspiration for entering the pageant, they do so much more for her than she does for them.
While I rated Julie Murphy's last book,
Side Effects May Vary
, highly, it wasn't quite a joy to read--cancer, and the main character is very unlikable--but
Dumplin'
is far and away a delight, all the way through. You'll giggle, you'll smile, and you'll be so happy when you finish.
About the author:
Julie Murphy is a potty-mouthed Southern belle who was born in Bridgeport, Connecticut, but found her home in Fort Worth, Texas. She's never seen Star Wars, but has yet to meet a made for TV movie she didn't love. When she's not writing, Julie can be found cruising Costco for free samples, watching Sister Act 2, stalking drag queens on instagram, obsessing over the logistics of Mars One, and forever searching for the perfect slice of cheese pizza. She lives with her bearded husband, two vicious cats, and one pomeranian that can pass as a bear cub. DUMPLIN' is her second young adult novel.