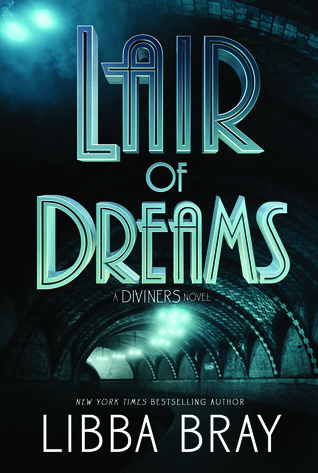 Release date:
August 25, 2015
Author info:
Website
|
Twitter
|
Facebook
Publisher:
Little, Brown Books for Young Readers
Pages:
624
Format:
Egalley
Source:
Publisher provided for review through Netgalley
Buy the book:
Barnes & Noble
|
Amazon
|
The Book Depository
After a supernatural showdown with a serial killer, Evie O'Neill has outed herself as a Diviner. Now that the world knows of her ability to "read" objects, and therefore, read the past, she has become a media darling, earning the title, "America's Sweetheart Seer." But not everyone is so accepting of the Diviners' abilities...

Meanwhile, mysterious deaths have been turning up in the city, victims of an unknown sleeping sickness. Can the Diviners descend into the dreamworld and catch a killer?
This one is a honker, y'all. It's huge. But that's what you expected, right, if you read
The Diviners
? And I loved
The Diviners
, so the eons-long wait for
Lair of Dreams
wasn't my favorite. But, when the book's as good as
Lair of Dreams
ended up being, it's worth it.
It was clear in
The Diviners
that there's a much larger story going on that the bad guy of each book, but there aren't too many details into what that is, how the Diviners themselves play into it. or how they're connected. That all changes in this second book, though it's still not detailed. The pieces have started to come together, but there's a lot to put together. Seeing how big stories form out of smaller ones over the course of a series is one of my favorite things to watch, and I can only guess at how intricate and exciting this is going to become. And what I liked about
Lair of Dreams
' antagonist is that it's less evil that you'd guess. Naughty John was simply a nasty piece of work, but this time around we're dealing more with heartbreak and betrayal and how that can sour into something terrifying and vengeful, rather than inherently evil.
And since we already know most of our key players, there's no learning curve this time around. Immediately we dive into the action, and it's quite the hook. It's hard sometimes to follow a lot of characters over the course of a book, but Libba Bray does a great job in these books, differentiating her voices and keeping everyone straight. It's a huge cast of characters with viewpoints, so to write it in such a way that the reader never gets confused is a marvel. And yet, each and every character is given more depth.
As huge at
Lair of Dreams
is, I was upset it was over. I could have read a few hundred more pages pretty happily, if that tell y'all anything. If you were a fan of
The Diviners
, you'll absolutely enjoy
Lair of Dreams
and likely be just like me, hoping Libba can get that third book out at least a little bit faster than this one came.
About the author:
Libba Bray is the New York Times bestselling author of The Gemma Doyle trilogy (A Great and Terrible Beauty, Rebel Angels, The Sweet Far Thing); the Michael L. Printz Award-winning Going Bovine; Beauty Queens, an L.A. Times Book Prize finalist; and The Diviners series. She is originally from Texas but makes her home in Brooklyn, NY, with her husband, son, and two sociopathic cats.