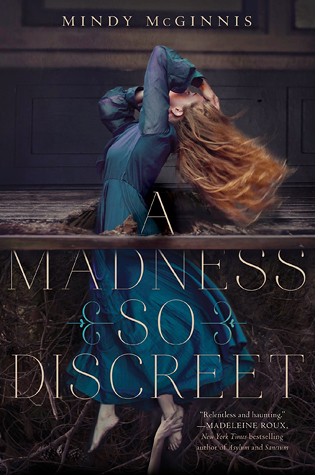 Title:
A Madness So Discreet
Author:
Mindy McGinnis
Release date:
October 6, 2015
Grace Mae knows madness.

She keeps it locked away, along with her voice, trapped deep inside a brilliant mind that cannot forget horrific family secrets. Those secrets, along with the bulge in her belly, land her in a Boston insane asylum.

When her voice returns in a burst of violence, Grace is banished to the dark cellars, where her mind is discovered by a visiting doctor who dabbles in the new study of criminal psychology. With her keen eyes and sharp memory, Grace will make the perfect assistant at crime scenes. Escaping from Boston to the safety of an ethical Ohio asylum, Grace finds friendship and hope, hints of a life she should have had. But gruesome nights bring Grace and the doctor into the circle of a killer who stalks young women. Grace, continuing to operate under the cloak of madness, must hunt a murderer while she confronts the demons in her own past.

In this beautifully twisted historical thriller, Mindy McGinnis, acclaimed author of Not a Drop to Drink and In a Handful of Dust, explores the fine line between sanity and insanity, good and evil—and the madness that exists in all of us.

My teaser, from 1% in the egalley:
They all had their terrors.

The new girl believed that spiders lived in her veins.

Her screams sliced through the darkness, passing through the thin walls of Grace's cell and filling her brain with another's misery to add the pressures of her own. Grace pulled her pillow tight over her ears, ignoring the feather shafts that poked through the cheap muslin and pricked her skin. On the other side of the wall she could hear Mrs. Clay shifting in her bed, sleep stolen from both patients by the new girl, who hadn't learned yet that screaming didn't bring help.
I haven't read Mindy's other books, but I loooove the sound of this--and read those first lines! They're so creepy, I love it. :D
I'll be visiting around and visiting back, so leave me links to your teasers! :) Happy Tuesday!