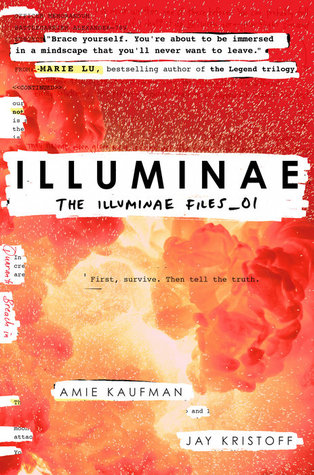 Release date:
October 20, 2015
Find Amie online:
Website
|
Twitter
|
Facebook
Find Jay online:
Website
|
Twitter
|
Facebook
Publisher:
Knopf Books for Young Readers
Pages:
608
Format:
Egalley
Source:
Publisher provided for review through Netgalley
Buy the book:
Barnes & Noble
|
Amazon
|
The Book Depository
This morning, Kady thought breaking up with Ezra was the hardest thing she'd have to do.

This afternoon, her planet was invaded.

The year is 2575, and two rival megacorporations are at war over a planet that's little more than an ice-covered speck at the edge of the universe. Too bad nobody thought to warn the people living on it. With enemy fire raining down on them, Kady and Ezra—who are barely even talking to each other—are forced to fight their way onto an evacuating fleet, with an enemy warship in hot pursuit.

But their problems are just getting started. A deadly plague has broken out and is mutating, with terrifying results; the fleet's AI, which should be protecting them, may actually be their enemy; and nobody in charge will say what's really going on. As Kady hacks into a tangled web of data to find the truth, it's clear only one person can help her bring it all to light: the ex-boyfriend she swore she'd never speak to again.

Told through a fascinating dossier of hacked documents—including emails, schematics, military files, IMs, medical reports, interviews, and more—Illuminae is the first book in a heart-stopping, high-octane trilogy about lives interrupted, the price of truth, and the courage of everyday heroes.
Anything I can say about
Illuminae
(read: RAVE about
Illuminae
), if you've read a review, you've heard before.
It's imaginative. It's thrilling. And you won't be able to put it down. It took me around an hour to read the entire second half of the book, as I flew through the pages, tense and scared like I was on the ship with Kady. You finish, and you're breathless. You're crying. You're left feeling a little bit empty because it's over.
Illuminae
is an experience. I've already told everyone I work with to read it--and shown more than a few pages from the book.
Part of what's so spectacular is how close to Kady and Ezra you feel upon finishing. Because of the narrative structure--the whole book is a file compiled on the Kerenza incident--you're not really hearing from the two themselves. There are messages between them and others, giving you a distinct feel for their characters and voices, and Kady has a diary, giving you a glimpse into her head, but all of this could fall flat. Far from it, though. These are characters you will feel for, characters you will root for.
In some ways, I feel a little bit like a voice shouting into the void, because anything I can say about
Illuminae
has already been said--and it certainly won't compare to the book in any way. I've read some good books this year, but I daresay this is the one I feel most passionately about. It's an incomparable reading experience, and one you should kick yourself if you miss out on.
Pictures included in review are taken from the ARC, and therefore may not be exactly what's found in the finished hardcover.
About the authors:
Amie Kaufman is the New York Times bestselling co-author of the Starbound series.

Jay Kristoff is the award-winning author of the Lotus War series.

Collectively, they are 12'5" tall and live in Melbourne, Australia, with two long-suffering spouses, two rescue dogs, and a plentiful supply of caffeine. They met, thanks to international taxation law, and stuck together due to a shared love of blowing things up and breaking hearts. You can learn more about Amie and Jay at amiekaufman.com and jaykristoff.com.