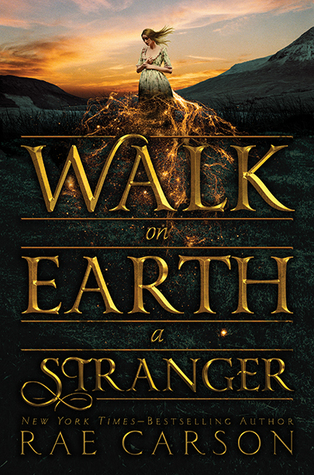 Release date:
September 22, 2015
Author info:
Website
|
Twitter
|
Facebook
Publisher:
Greenwillow Books
Pages:
432
Format:
Egalley
Source:
Publisher provided for review through Edelweiss
Buy the book:
Barnes & Noble
|
Amazon
|
The Book Depository
Lee Westfall has a secret. She can sense the presence of gold in the world around her. Veins deep beneath the earth, pebbles in the river, nuggets dug up from the forest floor. The buzz of gold means warmth and life and home—until everything is ripped away by a man who wants to control her. Left with nothing, Lee disguises herself as a boy and takes to the trail across the country. Gold was discovered in California, and where else could such a magical girl find herself, find safety?

Walk on Earth a Stranger, the first book in this new trilogy, introduces—as only Rae Carson can—a strong heroine, a perilous road, a fantastical twist, and a slow-burning romance. Includes a map and author's note on historical research.
Rae Carson's Girl of Fire and Thorns series is one of my favorites of all time, so no matter what her next book was to be, I was excited. When I heard it was a Western, I was even more excited, and each reveal about
Walk on Earth a Stranger
that came only made me want it more. That's hard expectation to live up to, but Rae Carson doesn't disappoint.
It's often my favorite thing when a book is less action and more character development, and while it doesn't seem that it would be,
Walk on Earth a Stranger
is just that. Most of the book's action is simply her journey across the country, with little episodes of peril, though most are resolved relatively quickly. It is, instead, Lee's state of mind that we venture through mostly. She's got to come to terms with the deaths of her beloved parents, the betrayal of a family member, and the sheer difficulty of the trek across the United States.
Through all of this time, as we obviously get to know Lee very well, the rest of her travelling party becomes intimately familiar as well. They run the gamut of personality and skill set, and over time, hidden depths are shown in each and every one. As much as it's Lee's story, it's certainly theirs as well.
While I was hoping for a larger inclusion of romance, it's light and actually rather lovely. Since this is only the first book in the series, I'm sure it'll become more of the story later.
Walk on Earth a Stranger
is most certainly the beginning to another wonderful series from Rae--while it didn't quite hit the heights of the Girl of Fire and Thorns books for me, I don't doubt it'll get even better as the series progresses. (Not much can compare to those books, to be quite honest, so even to get close is big!)
About the author:
I write books about teens who must do brave things. I'm originally from California, but I moved to Ohio to marry my husband, who is the smartest man I know. We live in Columbus with my teenaged stepsons, who are awesome. My books tend to contain lots of adventure, a little magic and romance, and smart girls who make (mostly) smart choices.