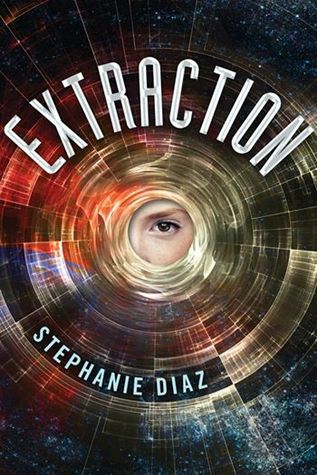 Release date:
July 22, 2014
Author info:
Website
|
Twitter
|
Facebook
Publisher:
St. Martin's Griffin
Pages:
416
Format:
Egalley
Source:
Publisher provided for review through Netgalley
Buy the book:
Barnes & Noble
|
Amazon
|
The Book Depository
"Welcome to Extraction testing."

Clementine has spent her whole life preparing for her sixteenth birthday, when she'll be tested for Extraction in the hopes of being sent from the planet Kiel's toxic Surface to the much safer Core, where people live without fear or starvation. When she proves promising enough to be "Extracted," she must leave without Logan, the boy she loves. Torn apart from her only sense of family, Clem promises to come back and save him from brutal Surface life.

What she finds initially in the Core is a utopia compared to the Surface—it's free of hard labor, gun-wielding officials, and the moon's lethal acid. But life is anything but safe, and Clementine learns that the planet's leaders are planning to exterminate Surface dwellers—and that means Logan, too.

Trapped by the steel walls of the underground and the lies that keep her safe, Clementine must find a way to escape and rescue Logan and the rest of the planet. But the planet leaders don't want her running—they want her subdued.

With intense action scenes and a cast of unforgettable characters,Extraction is a page-turning, gripping read, sure to entertain lovers of Hunger Games and Ender's Game and leave them breathless for more.
Extraction
is fast-paced and exciting, with a world that I found myself intrigued by from the first pages. And while it has a lot of familiar elements, it's also interesting and original enough to make it an enjoyable read from the first page to the last.
Clementine is nothing if not strong-willed, dedicated to saving the life of the boy she loves, the only person she has in the world. It tinges all of her efforts in a new light, because everything she does is to save him. Yes, she, like anyone, is selfish at times, knowing what she does leads to helping herself more than Logan, but it's admirable nonetheless. It's a shame we don't see all that much of Logan, since he comes off as sweet and caring, with only Clementine's welfare in mind.
I'm very intrigued to see where this series goes, because it's very much dystopian with a bit of science fiction thrown in here in this first book, but I feel like it has a lot of potential to turn heavily in the science fiction direction, which would make for a really interesting rest of the series. Nonetheless, the concept is interesting and the world is very well-realized.
Extraction
is a very solid introduction to a new series that has a lot of growing potential. With a smart, selfless heroine, a well-built world, and great pace, I devoured
Extraction
and am definitely looking forward to more of Clementine and Logan.
About the author:
Twenty-one-year-old Stephanie Diaz wrote her debut novel, Extraction, when she should've been making short films and listening to college lectures at San Diego State University. When she isn't lost in books, she can be found singing, marveling at the night sky, or fan-girling over TV shows.
I forget about things that used to matter. Things that hurt me, scarred me, and worried me. Floating here, I could be a cloud, a krail, a wanderer among the stars. Or maybe I am a star. Whatever I am is a small thing with little significance in a universe as wide as this one, but in this moment, I feel big. I feel like nothing can break me.

Fear makes me weak, but facing it makes me strong.

"It's not your fault, I promise," he whispers. His starry-night eyes stare straight into mine, sending a flutter into my stomach. He holds me like I'm a shard of trembling glass. Like he's sure he's going to make a mistake and I'm going to break, but I'm waiting for it. I've wanted it forever.

"We want you to be stronger. Fiercer. Better."
"Aren't we better already, sir?" the dark-skinned boy, Stanley, asks.
Sam grins. "Of course."
Colonel Parker doesn't argue. Neither does anyone else.
I want to say something. I want to tell them they're wrong, we're not better than anyone in the camps. The only difference between us and them is the clothes we're wearing, and the food we eat down here, and the lack of scars on our faces.
The only difference is we got lucky, and they didn't.
a Rafflecopter giveaway