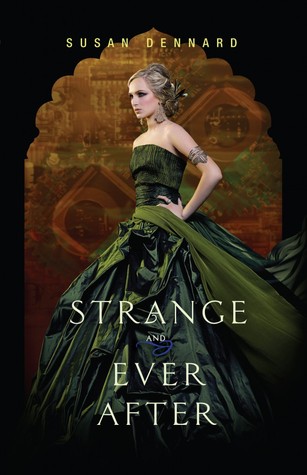 Title:
Strange and Ever After (Something Strange and Deadly #3)
Author:
Susan Dennard
Release date:
July 22, 2014
Pages:
400
In the conclusion to the trilogy that Publishers Weekly called "a roaring—and addictive—gothic world," Eleanor Fitt must control her growing power, face her feelings for Daniel, and confront the evil necromancer Marcus...all before it's too late.

He took her brother, he took her mother, and now, Marcus has taken her good friend Jie. With more determination than ever to bring this sinister man to justice, Eleanor heads to the hot desert streets of nineteenth-century Egypt in hopes of ending this nightmare. But in addition to her increasingly tense relationships with Daniel, Joseph, and her demon, Oliver, Eleanor must also deal with her former friend, Allison, who has curiously entangled herself in Eleanor's mission.

With the rising dead chomping at her every move and Jie's life hanging in the balance, Eleanor is convinced that her black magic will see her through to the bitter end. But there will be a price. Though she and the Spirit Hunters have weathered every battle thus far, there will be consequences to suffer this time—the effects of which will be irreversible. And when it's over, only some will be able to live a strange and ever after.

Susan Dennard will leave readers breathless and forever changed in the concluding pages of this riveting ride.

My teaser, from 20% in the egalley:
"The Dead are everywhere."

"Then command me to fight them." He shoved into a jog--and pulled me with him. All around us, chunks of marble hit the ground.

"No," I shouted. "We need to save our strength for the true enemy." He did not argue, and as we raced back to the entrance, I felt a single thought pulse from Oliver's mind into mine.

Finally I know how to find the Old Man.
This is such a fun series! I love the zombies in this setting, and will definitely enjoy seeing how the trilogy ends. :)
I'll be visiting around and visiting back, so leave me links to your teasers! :) Happy Tuesday!