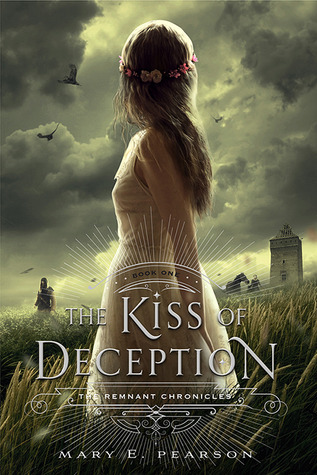 Release date:
July 8, 2014
Author info:
Website
|
Twitter
Publisher:
Henry Holt and Co.
Pages:
489
Format:
Egalley
Source:
Publisher provided through Netgalley
Buy the book:
Barnes & Noble
|
Amazon
|
The Book Depository
In this timeless new trilogy about love and sacrifice, a princess must find her place in a reborn world.

In a society steeped in tradition, Princess Lia's life follows a preordained course. As First Daughter, she is expected to have the revered gift of sight—but she doesn't—and she knows her parents are perpetrating a sham when they arrange her marriage to secure an alliance with a neighboring kingdom—to a prince she has never met.

On the morning of her wedding, Lia flees to a distant village. She settles into a new life, hopeful when two mysterious and handsome strangers arrive—and unaware that one is the jilted prince and the other an assassin sent to kill her. Deception abounds, and Lia finds herself on the brink of unlocking perilous secrets—even as she finds herself falling in love.
I adore high fantasy. It's one of those genres that I'll never tire of, but where I also have high standards. That means, clearly,
The Kiss of Deception
appealed to me. There are a couple of elements that felt less than satisfactory to me, but generally
The Kiss of Deception
is a highly entertaining and promising fantasy.
There's a lot to be said for this book. The writing is, without a doubt, gorgeous. Time and time again I found myself stopping just to reread a phrase or to sit and think about the wording. It was simply lovely and a joy to read, just on the level of sentence construction. I also found myself really liking Lia, especially in the latter parts of the book. Running away from her duty was something I could understand, but never really admired her for. I see the bravery in going against the expectations, breaking out, but I see more bravery in facing what scares you and fulfilling duty. It didn't make me dislike her at the beginning at all, because it's an understandable reaction. However, her strength in taking on work she's never done and dedication to learning make me like her more as time went on. When later events spurred her into bigger action, I really grew to admire her. She's strong, dedicated, and willing to do anything for those she loves. That growth is just great.
Really, the biggest detraction is the love triangle. It's there, and it looks like it's not going away in the next book, but at the same time, I found myself pretty darn invested. Pearson keeps you from knowing who the prince and assassin are, making their introductions from Lia's point of view, so we get descriptions and names, but not their purposes. I was so
sure
I knew who each was, but was wrong--and while being wrong is frustrating, I was deeply happy as well.
The only other problem I had was that a lot of the mythology of the world was kind of foggy. The story fragments at the beginning of each chapter were compelling and the background we're given is really interesting, but I never found a full picture. It's compelling and gets better as the story goes on, but the focus on the relationships didn't allow for as much growth of the storyline. Hopefully this will be expanded in the sequel.
In all,
The Kiss of Deception
is a promising start to the series. The characters and story are compelling and the writing is beautiful. None of my problems really hindered my enjoyment. It's a pretty darn long book, but the moment I finished I was wishing for more--and that says a lot.
About the author:
Mary E. Pearson is the award-winning author of The Jenna Fox Chronicles, The Miles Between, A Room on Lorelei, and Scribbler of Dreams. She writes full-time from her home office in California where she lives with her husband and two golden retrievers.