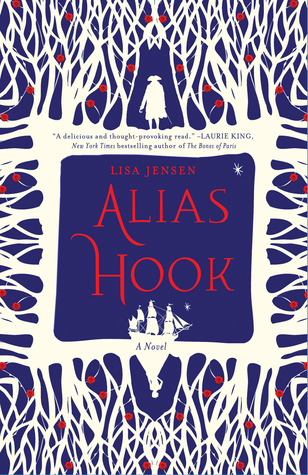 Release date:
July 8, 2014
Author info:
Website
|
Facebook
Publisher:
Thomas Dunne Books
Pages:
368
Format:
Egalley
Source:
Publisher provided through Netgalley
Buy the book:
Barnes & Noble
|
Amazon
|
The Book Depository
"Every child knows how the story ends. The wicked pirate captain is flung overboard, caught in the jaws of the monster crocodile who drags him down to a watery grave. But it was not yet my time to die. It's my fate to be trapped here forever, in a nightmare of childhood fancy, with that infernal, eternal boy."

Meet Captain James Benjamin Hook, a witty, educated Restoration-era privateer cursed to play villain to a pack of malicious little boys in a pointless war that never ends. But everything changes when Stella Parrish, a forbidden grown woman, dreams her way to the Neverland in defiance of Pan's rules. From the glamour of the Fairy Revels, to the secret ceremonies of the First Tribes, to the mysterious underwater temple beneath the Mermaid Lagoon, the magical forces of the Neverland open up for Stella as they never have for Hook. And in the pirate captain himself, she begins to see someone far more complex than the storybook villain.

With Stella's knowledge of folk and fairy tales, she might be Hook's last chance for redemption and release if they can break his curse before Pan and his warrior boys hunt her down and drag Hook back to their neverending game. Alias Hook by Lisa Jensen is a beautifully and romantically written adult fairy tale.
Alias Hook
is gorgeous, and largely, it's masterful, an imaginative and stirring reimagining of one of children's literature's most famous villains. Every aspect of the Neverland is lovingly crafted and taken to a deeper level while also retaining the magic of the original story. It's a feat of retelling prowess, blurring the lines between hero and villain, making neither who we thought they were but also never fully reversing the roles.
The famed Captain Hook has been trapped in the Neverland for centuries. While a paradise at first, it has become his purgatory to fight Peter Pan time and time again, never able to win but also never able fully to lose, to die. He has "died" at Pan's hand countless times, only to live on. All he seeks is death, an end to the drudgery of a meaningless life of fighting, knowing he can't win, and watching his crew die. This is the Hook we meet at the beginning of
Alias Hook
, desperate for an escape but hopeless that one will come. When Stella Parrish, an impossible grown woman in the Neverland, drops in, it's through her that he realizes a reason to live on, a reason to cherish the Neverland that has served as his prison, and a reason to fight for his escape. His journey is a startlingly lovely one, full of regret and sorrow, but also of the joy of love.
The Neverland is just as magical in a novel written for adults as it would be to the child's eye. A world built around the whim of Pan, it is conducive to his needs and odd dislikes, but it's also a paradise to the innocents who come to escape and to learn why they must grow up. But the Neverland hides secrets from Hook, and it hides even more secrets about Pan, unexpected but that also deepen him as a character.
As a reader, it's easy to get swept up in
Alias Hook
and forget imperfections. For me, all that detracted was that I was unable to connect to Stella and her relationship with Hook. I'm unsure why that was, but I never felt for her the way I felt so intimately connected to Hook. I saw how their relationship changed him and enjoyed the change, but the relationship itself never stirred much within me. This didn't much take away from Hook's story itself, but I wished I had a better idea of Stella so I could see his transformation more completely.
Alias Hook
paints a new, nuanced, and flawed portrait of Captain Hook that takes the reader on a journey of epic proportions, though time and space and into the lands of the fairies and mermaids. A story of the transformative power of love,
Alias Hook
is gorgeously written and beautifully romantic.
About the author:
I might have been a pirate in a previous life, or else I watched too many old Errol Flynn movies on TV in my formative years.

My historical fantasy "Alias Hook," presents the flip side of the Neverland from the caustic perspective of its prisoner, Captain Hook. It will be published by Thomas Dunne Books in July, 2014. My historical pirate novel, "The Witch From the Sea," published in 2001, is the first book in a planned trilogy.

In real life, I'm a film critic for an alternative weekly in Santa Cruz, CA, a position I've held since dinosaurs roamed the earth. I also reviewed books for the San Francisco Chronicle for 13 years, where my specialty was (surprise!) historical fiction, and women's fiction.