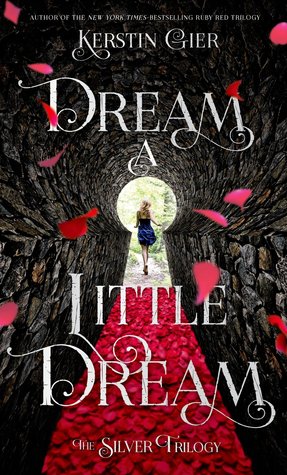 Release date:
April 14, 2015
Author info:
Website
|
Facebook
Publisher:
Henry Holt and Co.
Pages:
336
Format:
ARC
Source:
Publisher provided for review
Buy the book:
Barnes & Noble
|
Amazon
|
The Book Depository
Mysterious doors with lizard-head knobs. Talking stone statues. A crazy girl with a hatchet. Yep, Liv's dreams have been pretty weird lately. Especially this one where she's in a graveyard at night, watching four boys perform dark magic rituals.

The really weird thing is that Liv recognizes the boys in her dream. They're classmates from her new school in London, the school where's she's starting over because her mom has moved them to a new country (again). But they seem to know things about her in real life that they couldn't possibly know, which is mystifying. Then again, Liv could never resist a good mystery. . .
After so loving Kerstin Gier's
Ruby Red Trilogy
, I fully expected to enjoy her next series. It mattered very little to me what it was about, really. Luckily for me,
Dream a Little Dream
sounded good. And while it didn't quite delight me in all the same ways the Ruby Red books did, unsurprisingly, I very much enjoyed
Dream a Little Dream
.
The highlight of Kerstin Gier's books, I think, is the completely engaging and terribly fun narrative voice. Liv is like Gwyneth (narrator of the Ruby Red books) in that she's a little off kilter but filled with quirky comebacks and mental asides. We meet Liv as she's dealing with being stopped at customs for bringing stinky cheese into England. That's almost her character in a nutshell, and who could resist that? Rather mundane things, like eating dinner with family, are made into laugh-out-loud moments by what Liv (along with her sister, Mia) says and does.
While I wanted a bit more of the dreaming side to the story, and certainly wasn't expecting
why
the dreams were happening, I really enjoyed reading the whole thing. I liked where the story went and even as there was not that much going on, I flew through the book. I did find the beginning to be a bit confusing, with a lot of people introduced very quickly and had to figure out who people were as they popped back up again. Once I got into the flow and was clear on who everyone was, I was completely hooked. And I do have to say, I didn't quite get
why
there was a school blog with a mysterious person who knows all the secrets, very similar to
Gossip Girl
. We could have done without it, at least in this book, so I guess I'll have to wait and see if it plays better in the rest of the series.
I wasn't disappointed by
Dream a Little Dream
. Not one bit. Kerstin Gier has a knack for witty and charming narration and the book is frightfully easy to fly through. I can't wait for book two!
About the author:
Kerstin Gier started writing women's novels in 1995 when she found herself with a fresh teaching diploma in hand but without steady work. She is best known in the United States for her Ruby Red Trilogy, and her first book, Männer und andere Katastrophen (Men and Other Disasters), was recently made into a movie starring actress and singer Heike Makatsch. Her subsequent books have enjoyed great popularity in Germany as well. Her novel Das unmoralische Sonderangebot (The Immoral Deal) won the 2005 Best German-Language Romance Novel Prize from the Association of German-Language Romance Writers (DeLiA).

Gier, born in 1966, now works full-time as a freelance writer in a village near Bergisch Gladbach, Germany, where she lives with her husband, son, two cats, and three chickens.