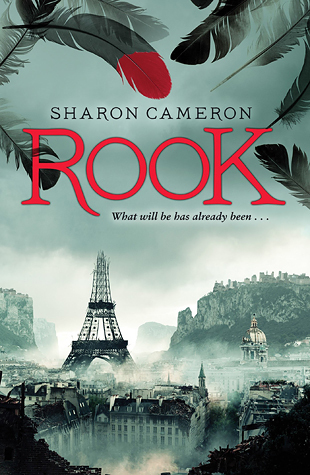 Title:
Rook
Author:
Sharon Cameron
Release date:
April 28, 2015
History has a way of repeating itself. In the Sunken City that was once Paris, all who oppose the new revolution are being put to the blade. Except for those who disappear from their prison cells, a red-tipped rook feather left in their place. Is the mysterious Red Rook a savior of the innocent or a criminal?

Meanwhile, across the sea in the Commonwealth, Sophia Bellamy's arranged marriage to the wealthy René Hasard is the last chance to save her family from ruin. But when the search for the Red Rook comes straight to her doorstep, Sophia discovers that her fiancé is not all he seems. Which is only fair, because neither is she.

As the Red Rook grows bolder and the stakes grow higher, Sophia and René find themselves locked in a tantalizing game of cat and mouse.

My teaser, from pg. 89 in the ARC:
What sort of person went to the lengths she did to dam a flood of evil, and then lay awake at night dreading when there would be no more evil behind the dam? Without the Red Rook, she would be nothing but the girl she was before and the girl she would become: a wife, doing just as her mother and grandmother had, doomed to managing a house and dinners with Mrs. Rathbone until the end of her days.
I normally don't intentionally pick teasers, but this one I really wanted to share. The whole section this bit is a part of is really great. I loved the peek into Sophie's mindset and motivations. I don't mark too much, but I definitely marked this. I'm loving this one so far. :)
I'll be visiting around and visiting back, so leave me links to your teasers! :) Happy Tuesday!