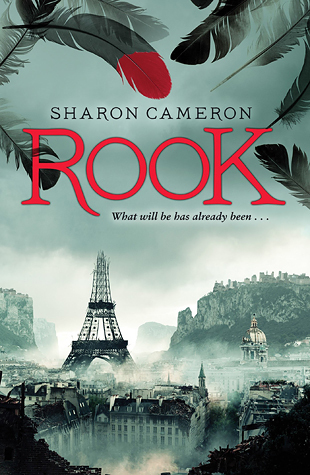 Release date:
April 28, 2015
Author info:
Website
|
Twitter
|
Facebook
Publisher:
Scholastic Press
Pages:
464
Format:
ARC
Source:
Publisher provided for review
Buy the book:
Barnes & Noble
|
Amazon
|
The Book Depository
History has a way of repeating itself. In the Sunken City that was once Paris, all who oppose the new revolution are being put to the blade. Except for those who disappear from their prison cells, a red-tipped rook feather left in their place. Is the mysterious Red Rook a savior of the innocent or a criminal?

Meanwhile, across the sea in the Commonwealth, Sophia Bellamy's arranged marriage to the wealthy René Hasard is the last chance to save her family from ruin. But when the search for the Red Rook comes straight to her doorstep, Sophia discovers that her fiancé is not all he seems. Which is only fair, because neither is she.

As the Red Rook grows bolder and the stakes grow higher, Sophia and René find themselves locked in a tantalizing game of cat and mouse.
I fully admit I've been putting off this review.
Rook
is one of those books I loved so much that I'm not sure I'll be able to put it into words. I don't even know where to start. I've not read
The Scarlet Pimpernel
(though I totally bought a copy this week--that shall change!), but Sharon Cameron does so much more than just retell the story.
Rook
is a book that reads like a historical while it's truly more dystopian than anything. There's a rather complicated setup that is slowly unraveled as the story moves forward, and it's just fascinating. The world is lush and glamorous with a big hint of grit, and it's one I couldn't get enough of.
It's very clear that Sophie is the Red Rook in
Rook
, so that's not the unexpectedly wonderful part of this book, though her unrelenting dedication and her careful planning are certainly a highlight. What make
Rook
so hard to put down and so
good
are the characters. They range the gamut from crazed zealot to frustrated would-be suitor to steely-eyed family matriarch, with everything in between. Each character is carefully crafted that it's been several weeks since I read this book and it's easy to pinpoint all of the players and I could easily spout off information about each one.
The other standout aspect of
Rook
is the romance. THE ROMANCE. I could not get enough of it. Sophie and Rene are stand-out characters--even amongst a cast as strong as this--to begin with, but their slow-build relationship is perfection. The realization that neither is who they pretend to be, their banter, their mutual attraction, and their eventual coming together--it's all tremendously pleasurable to read. Their clear respect for the other and admiration of each other's abilities and intelligence make it even better.
My one and only little quibble is that
Rook
reads a little long at times. What feels like the ending of the book really isn't and the expectation that it is makes it feel rather long in parts. (It won't even lose half a star for it, though... Too much love, y'all.)
Yet, once I got near the final pages, I wasn't happy--because that meant the story was over and my first experience with Sophie and Rene was finished.
Rook
is absolutely a book that will have a place on my shelves and one that'll frequently be removed so I can reread the parts I've marked and so I can reread the whole book.
About the author:
Sharon Cameron was awarded the 2009 Sue Alexander Most Promising New Work Award by the Society of Children's Book Writers and Illustrators for her debut novel, The Dark Unwinding. When not writing Sharon can be found thumbing dusty tomes, shooting her longbow, or indulging in her lifelong search for secret passages. She lives with her family in Nashville, Tennessee.