Hellooo y'all! I am so, so excited to be hosting a stop on the blog tour for
The Boy Next Door
today! The book is so much fun and just the kind of book to snuggle up with during this cold weather we're having. :) And today I've got a guest post featuring a bit of advice from Katie and a chance to win a finished copy of the book! YAY!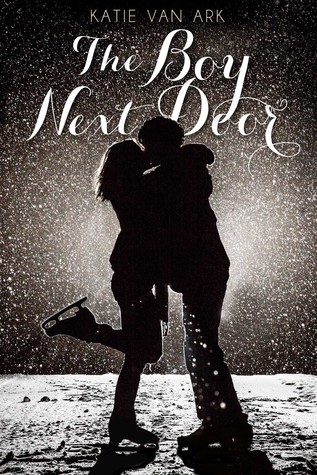 About the book:
Maddy Spier has been in love with the boy next door forever. As his figure skating partner she spends time in his arms every day. But she's also seen his arms around other girls—lots of other girls.

Gabe can't imagine skating with anyone but Maddy, and together they have a real chance at winning some serious gold medals. So, he's determined to keep thinking of her like a sister. After all, he's never had a romantic relationship that lasted for more than two weeks.

But when their coach assigns a new romantic skating program, everything changes. Will this be the big break that Maddy's been hoping for or the big breakup that Gabe has always feared?
Romance Advice
Most romance novels are just about how a couple first meets but real-life love is more like writing a romance novel. Sure you work out all the details so you finally get together but that's only where the work begins. You have to keep polishing that relationship. Like in
The Boy Next Door,
it's not really about falling, it's about what you do after the fall. So this advice comes not from my romance novel experience but from my real life romance experience, where I'm still living happily-ever-after with my high school sweetheart.
Dating a friend might be scary but you should be best friends with your significant other. Be with someone that you can trust with anything, that you want to hang out with all the time, that you can be yourself with. Not just someone you can live with, but someone you can't live without.
Have a couples bucket list of things you dream of doing together. You don't have to be pair skaters to be a team working together to accomplish a goal. Hike every trail in your local state or national park, take dance lessons, find a band you can fan-couple together.
Praise in public, chide in private. And remember that social media is public. Don't post about fights on Facebook or Twitter, even if that's where your friends you want to rant to are. All couples fight sometimes but broadcasting it or leaving digital reminders isn't respectful.
Most importantly? Make out like you're still in high school. :-)
About the author:
Growing up less than a block from the public library, Katie has always loved books and admits to crossing the street while reading. She learned to skate as an adult and to write after that and is a firm believer that it's never too late to follow your dreams. A former teacher, she now writes full-time and still skates weekends with her synchronized skating team. She lives in Michigan with two daughters, two cats, and one very patient husband (her high school sweetheart). She is a member of the Society of Children's Book Writers and Illustrators and of Romance Writers of America. The Boy Next Door is her first novel.
Big, big thanks to Katie for taking the time to stop by today, and thanks to Macmillan Teen for letting me be a part of the tour! :D
Learn more about
The Boy Next Door
.
Learn more about
Swoon Reads
.
Join in on social media with #BoyNextDoor (bonus points if you also tag @SwoonReads!)
Add
The Boy Next Door
to your to-read list on
Goodreads
.
And now, thanks to Macmillan, I have a copy of
The Boy Next Door
to give away to one lucky reader (US/CAN only)! Enter, enter, enter!
a Rafflecopter giveaway