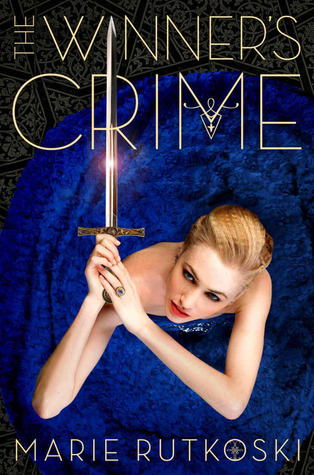 Title:
The Winner's Crime (The Winner's Curse #2)
Author:
Marie Rutkoski
Release date:
March 3, 2015
The engagement of Lady Kestrel to Valoria's crown prince means one celebration after another. But to Kestrel it means living in a cage of her own making. As the wedding approaches, she aches to tell Arin the truth about her engagement…if she could only trust him. Yet can she even trust herself? For—unknown to Arin—Kestrel is becoming a skilled practitioner of deceit: an anonymous spy passing information to Herran, and close to uncovering a shocking secret.

As Arin enlists dangerous allies in the struggle to keep his country's freedom, he can't fight the suspicion that Kestrel knows more than she shows. In the end, it might not be a dagger in the dark that cuts him open, but the truth. And when that happens, Kestrel and Arin learn just how much their crimes will cost them.


My teaser, from 8% in the egalley:
"Do you think that an empire can survive without a few dirty methods? Do you think that an empress will keep herself clean of them?"

"No."

He slid the drawer shut. Its slide and click were as loud as a bang. "Then what have we left to address but my disappointment? My grievous disappointment? I had thought better of you."
Oh my word, I think is more of a tease for myself than y'all. I'm writing and scheduling this post way in advance, so it's killing me that I'm opening the book without reading the whole thing... I WANT TO.
I'll be visiting around and visiting back, so leave me links to your teasers! :) Happy Tuesday!