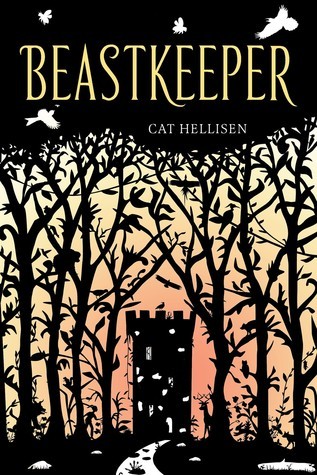 Release date:
February 3, 2015
Author info:
Website
|
Facebook
Publisher:
Henry Holt and Co.
Pages:
208
Format:
ARC
Source:
Publisher provided for review
Buy the book:
Barnes & Noble
|
Amazon
|
The Book Depository
Sarah has always been on the move. Her mother hates the cold, so every few months her parents pack their bags and drag her off after the sun. She's grown up lonely and longing for magic. She doesn't know that it's magic her parents are running from.

When Sarah's mother walks out on their family, all the strange old magic they have tried to hide from comes rising into their mundane world. Her father begins to change into something wild and beastly, but before his transformation is complete, he takes Sarah to her grandparents—people she has never met, didn't even know were still alive.

Deep in the forest, in a crumbling ruin of a castle, Sarah begins to untangle the layers of curses affecting her family bloodlines, until she discovers that the curse has carried over to her, too. The day she falls in love for the first time, Sarah will transform into a beast . . . unless she can figure out a way to break the curse forever.
A retelling of
Beauty and the Beast
where the girl turns into the beast? I mean, how could you resist? Between that and the perfect cover,
Beastkeeper
was at the top of my list. It had a lot to live up to, and it definitely didn't disappoint.
Cat Hellisen's
Beastkeeper
is, first and foremost, gorgeously written. It's so atmospheric and just oozes mystery, enticing you to read more and more. Her words aren't flowery, but they evoke so much with simple, careful word choice. It's the kind of writing I forget I crave until I'm reading it and it smacks me over the head with how gorgeous it is.
For how short the book is, the story is marvelously slow. It creeps forward, savoring the moments and how Sarah feels, giving you time to digest and to process. I know many people aren't fans of slow-moving stories, but there's so much to enjoy as you go that I don't think it'll be a problem for many people.
Beastkeeper
is the kind of book that needs that time.
This is absolutely the kind of book that would have completely captured my heart when I was younger. So much of it reminded me of Robin McKinley's books, or at least how her books made me feel when I first read them--and that's a special thing. My only problem is, as an older reader, I have more questions than I would have had when I was younger. The world is sparse on details, which allows the book to be slim, but I, of course, could have used a little more. I was still completely caught up in the story, but when I finished, I couldn't say I had a terribly good grasp on things. My final thoughts are all more
feelings
than articulated ideas.
Beastkeeper
is a middle grade novel that deals with complex ideas. The traditional curse required in the
Beauty and the Beast
story is changed into one that's triggered when love is unrequited, and it takes the happily ever after of most fairy tales and throws it out. Go in with an open mind and I don't see you being disappointed.
About the author:
Cat Hellisen is an author of fantasy for adults and children. Born in 1977 in Cape Town, South Africa, she has also lived in Johannesburg, Knysna, and Nottingham.

She sold her first full-length novel, When the Sea is Rising Red in 2010. Her children's book Beastkeeper, a play on the old tale of Beauty and the Beast, is due out February 3rd 2015 by Henry Holt and Co. (BYR).