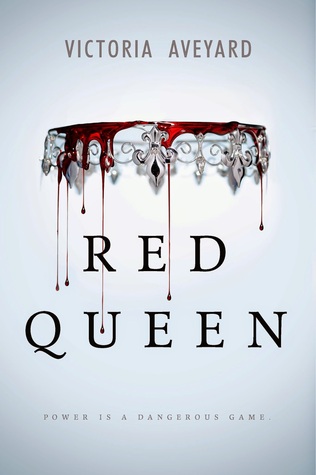 Title:
Red Queen
Author:
Victoria Aveyard
Release date:
February 1, 2015
Graceling meets The Selection in debut novelist Victoria Aveyard's sweeping tale of seventeen-year-old Mare, a common girl whose once-latent magical power draws her into the dangerous intrigue of the king's palace. Will her power save her or condemn her?

Mare Barrow's world is divided by blood--those with common, Red blood serve the Silver- blooded elite, who are gifted with superhuman abilities. Mare is a Red, scraping by as a thief in a poor, rural village, until a twist of fate throws her in front of the Silver court. Before the king, princes, and all the nobles, she discovers she has an ability of her own.

To cover up this impossibility, the king forces her to play the role of a lost Silver princess and betroths her to one of his own sons. As Mare is drawn further into the Silver world, she risks everything and uses her new position to help the Scarlet Guard--a growing Red rebellion--even as her heart tugs her in an impossible direction. One wrong move can lead to her death, but in the dangerous game she plays, the only certainty is betrayal.


My teaser, from 23% in the egalley:
"I want my brothers brought home from the war." For once, I feel like I've said something right. "And my friend, Kilorn Warren. Don't let the legions take him either."

Tiberias responds in half a heartbeat. A few Red soldiers mean nothing to him. "Done."

It sounds less like a pardon and more like a death sentence.
I am seriously so excited for this one, as is just about everyone else, right? The cover is awesome and it sounds so gooood. :D
I'll be visiting around and visiting back, so leave me links to your teasers! :) Happy Tuesday!