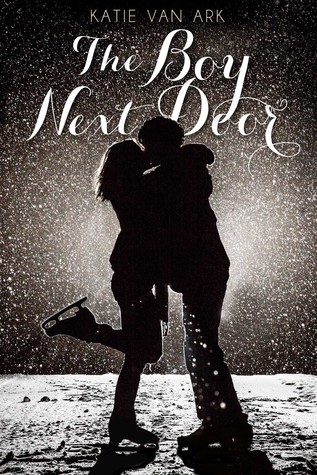 Release date:
January 6, 2015
Author
info:
Website
|
Twitter
|
Facebook
Publisher: Swoon Reads
Pages: 368
Format: ARC
Source: Publisher provided for review
Buy the book:
Barnes & Noble
|
Amazon
|
The Book Depository
Maddy Spier has been in love with the boy next door forever. As his figure skating partner she spends time in his arms every day. But she's also seen his arms around other girls—lots of other girls.

Gabe can't imagine skating with anyone but Maddy, and together they have a real chance at winning some serious gold medals. So, he's determined to keep thinking of her like a sister. After all, he's never had a romantic relationship that lasted for more than two weeks.

But when their coach assigns a new romantic skating program, everything changes. Will this be the big break that Maddy's been hoping for or the big breakup that Gabe has always feared?
The Boy Next Door
is the kind of book that I get excited and happy to read. I mean, how could you resist a friends to lovers romance that involves ice skating?? I'm glued to the TV every time I find any kind of skating competition, so of course a book involving just that is going to just call my name. And
The Boy Next Door
delivers exactly what I was hoping for: lots of skating, a sweet romance, and a satisfying ending.
When it comes to the romance, I was happy to find that it had a larger dynamic than just the friend-to-lover thing. Instead, Maddy and Gabe have been best friends and skating partners for, basically, their entire lives. They're a fantastic duo on the ice, and moving their relationship forward doesn't just jeopardize their friendship, but also their future in skating. They have the worst example in their practice partners, who have dated almost as long as they've skated together, and whose careers aren't going far, largely because their performances depend on how they feel towards one another. Maddy and Gabe struggle with the idea of ruining the two most important things in their lives: skating and one another.
The drama is also frustrating, though, because some of it feels unnecessary. If Maddy and Gabe just talked, things would be easier, but instead they flit back and forth, which is just annoying to read at times. Even so, you know they're meant to be together (and how books like this end), so it doesn't ruin the book. The other drama in the book, mostly dealing with Maddy's family, is something I quite liked. Both sets of parents are present in the story and they're largely very engaged in their children's lives. It's nice that there's not solely romance drama.
Though at times I felt the romance was overly dramatic and complicated, I still very much enjoyed The Boy Next Door. There's so much skating jargon that even the biggest nerd for skating (aka me) will be satisfied. Maddy and Gabe are so sweet together, and of course you get the happy ending I know you'll be dying for.
About the author:
Growing up less than a block from the public library, Katie has always loved books and admits to crossing the street while reading. She learned to skate as an adult and to write after that and is a firm believer that it's never too late to follow your dreams. A former teacher, she now writes full-time and still skates weekends with her synchronized skating team. She lives in Michigan with two daughters, two cats, and one very patient husband (her high school sweetheart). She is a member of the Society of Children's Book Writers and Illustrators and of Romance Writers of America. The Boy Next Door is her first novel.